Fiction Sneak Peek: December 18, 2021 Issue
---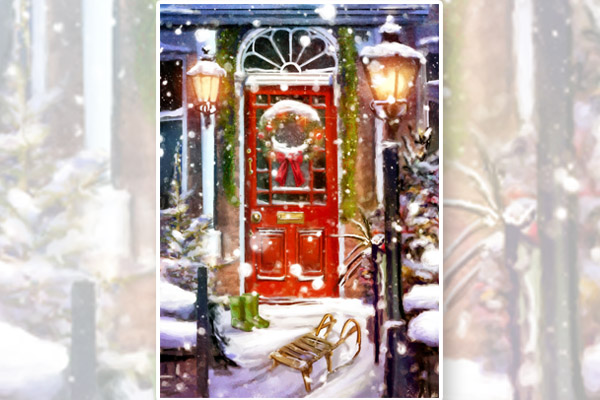 Illustration by Martin Baines.
Merry Christmas! And a very warm welcome to our December 18, 2021 issue — our second bumper Christmas issue!
Here's a look at the festive fiction you'll find inside.
Seventeen brand-new stories
"Going The Rounds", by Pamela Kavanagh, welcomes you to this bumper issue. In Bethany's family, carolling is such a firm tradition – so why would her aunt refuse to go after all these years? This traditional Christmas tale occurs in the 1870s. Illustrated by Sailesh Thakrar.
Nothing seems to be going right for Aileen – and then something very surprising happens! "One Of Those Days" by Karen Houseman features Shutterstock artwork.
There's a Christmas mystery afoot in "The Spy Who Came To Dinner", by Manon Barlow. Featuring artwork by Sarah Holliday.
Oh, Holy Night
As Christmas approaches, one night of the year keeps hope and love alive. "Holy Night", by Gillian Harvey, is illustrated by Jim Dewar.
Jennie has always wanted to be a star. Will a change in circumstances help her dream come true? "The Starring Role", by Vanda Inman, is illustrated by Andre Leonard.
"Saving Blitzen" by Rebecca Holmes, is next – and a hold-up on the trip home gives one young vet time to think. Artwork by Gerard Fay.
Our next story is by Stefania Hartley. Richard expects Christmas to be a solitary affair, as usual. But it is "A Season Of Goodwill"… Artwork from Shutterstock.
The true meaning of Christmas
A stranger brings the true meaning of Christmas into one family's home, and hearts. "All Together Now" is by Jane Broughton. Illustrated by Gerard Fay.
When one little girl learns a secret about Santa, Christmas could change forever. "If You Believe", is by Linda Franklin, and illustrated by Martin Baines.
We pay tribute to a much-loved "Friend" author next, with a reprint of one of her Father Carter stories. "Father Carter And The Winter Wanderers", by Pat Thornborough, is illustrated by Pat Gregory.
Is Santa Claus really retiring? Find out in "Goodbye, Mr Jolly", by Becca Robin. With a Pat Gregory illustration.
A feast of festive fiction
When the boiler packs in just before Christmas, is there any way of staying "Warm This Winter"? Kate Morgan writes this family short story. Manon Gandiolle illustrates.
A family start a Christmas tradition in "The Family Hamper", by Eirin Thompson. Artwork by Mandy Dixon.
We go back to 1975, for our next story, and Christmas is always an exciting time at Murrays Department Store. "The Christmas Dance", by Jane Tulloch, is illustrated by Kirk Houston.
After last year, Tess and Alan are delighted Christmas will be really special this year. "Perfectly Normal", by Beth Watson, features artwork by Sarah Holliday.
Why anyone would give gifts from a pet is a mystery to Ellie! "With Love From The Cat" is by Gill McKinlay. Illustration by Shutterstock.
There's one Christmas tradition that Tamara knows her family must keep. "The Tenth Seat", by Alison Carter, has artwork from Ruth Blair.
Serials
A new serial begins today – "Danger At Smuggler's Rest". It's the 1850s, and Rosa has come to the coast for a fresh start – but what secrets lie within the walls of her new home? Written by Kitty-Lydia Dye, it's illustrated throughout by Helen Welsh.
In Part Two of "Secrets In The Walls", by Louise McIvor, Cassie and Rob's new lodgers give the place some character. Illustrated by Gerard Fay.
Part Two of "Danger At Smuggler's Rest" sees the legacy of Elias Lockwood haunting Tessa and Rosa. By Kitty-Lydia Dye, with artwork by Helen Welsh.
In Part Three of "Secrets In The Walls", it doesn't take Axel and Agnes long to realise they are kindred spirits! By Louise McIvor, illustrations by Gerard Fay.
Series
If Carrie and Josie can't leave the shop, Christmas can come to them! Eirin Thompson writes "Read All About It".
In "Riverside", by Glenda Young, Susan goes into labour – but will Mary make it there in time?
---
Has our December 18, 2021 issue left you wanting more? Don't worry! Our new issue is in shops soon.
Did you know that subscribers receive their issues early? Click here for more info.