Three Classic Christmas Poems
---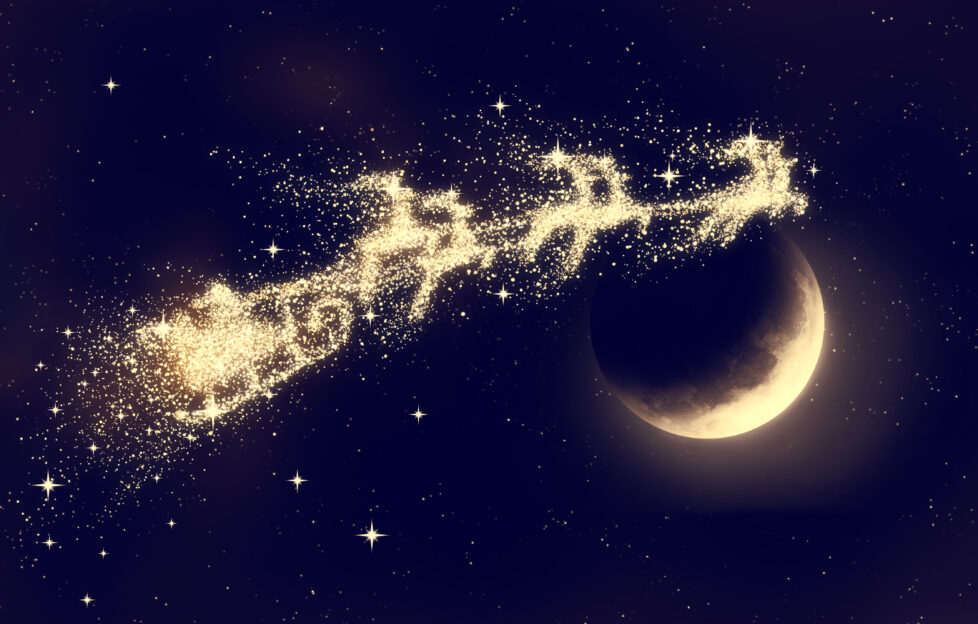 Shutterstock.
We've featured some lovely Christmas poems in our recent issues, and it got me thinking about poetry at Christmas in general.
Even if you don't normally read poems, it's likely that, for one month of the year, you find yourself reciting them.
Arguably the most famous of Christmas poems begins "'Twas the night before Christmas . . ." and what better place to start than with a poem about Christmas Eve?
Without this poem, we wouldn't have the building blocks of the Santa Claus we know and love today, or the names of Santa's original reindeer!
When what to my wondering eyes did appear,
But a miniature sleigh and eight tiny rein-deer,
With a little old driver so lively and quick,
I knew in a moment he must be St. Nick.
More rapid than eagles his coursers they came,
And he whistled, and shouted, and called them by name:
"Now, Dasher! now, Dancer! now Prancer and Vixen!
On, Comet! on, Cupid! on, Donner and Blitzen!
To the top of the porch! to the top of the wall!
Now dash away! dash away! dash away all!"
(Better brush up on those names – you know they'll come up on a Christmas cracker question)!
So, who wrote it?
The poem was originally credited to Clement Clarke Moore, however there has been some controversy in recent years.
Professor Donald Foster has found evidence to suggest that it was actually written by Major Henry Livingston Jr.
Major Henry Livingston Jr. was born into a colonial New York family in 1748. He was a jack of many trades, having been a farmer, surveyor, Justice of the Peace and a Major in the Revolutionary Army.
He published his poetry anonymously or simply as "R".
Now, let's move on to Christmas Day, and an altogether different kind of poem.
Whether reading this most imaginative of Christmas poems to little ones or watching one of the many adaptations, who could imagine Christmas without the Grinch and the Whos of Whoville?
On the surface it may seem a silly story, but it has a deeper message.
"Maybe Christmas," he thought, "doesn't come from a store."
"Maybe Christmas . . . perhaps . . . means a little bit more!"
Dr Seuss, whose real name was Theodor Seuss Geisel, wrote it in just a few weeks, and published it in 1957.
According to Dartmouth Alumni Magazine, Dr Seuss based the Grinch on . . . well, himself!
"Frankly, I was annoyed at what was happening at Christmas," Geisel said later. As he stood before the mirror brushing his teeth on the morning of December 26, 1956, he caught sight of a face scowling back at him. "It was Seuss!" Geisel exclaimed. "So, I wrote a story . . . to see if I could rediscover something about Christmas that obviously I'd lost."
Most surprisingly, the Grinch was originally black and white with red eyes. It was only for the 1966 animated film that the director and Dr Seuss turned him green.
This design was recreated for the 2000 live-action film starring Jim Carrey. He wore a costume made of spandex covered in dyed yak hair. . . anyone would feel Grinchy in that ensemble!
Now that the Whos have saved Christmas, let's move on to the days following the main event . . .
Historians believe that this classic rhyme began as a children's memory and forfeit game.
The twelve days of Christmas celebrated in the song begin on Christmas Day and end on Twelfth Night, January 5. This is the day before Epiphany.
In total, "True Love" gifts 12 partridges (in 12 pear trees), 22 turtle doves, 30 French hens, 36 calling birds, 40 gold rings, 42 geese (and who knows how many goose eggs!), 42 swans, 40 milkmaids, 36 dancing ladies, 30 leaping lords, 22 pipers and 12 drummers.
That's quite the expensive Christmas!
In fact, since 1984, PNC Bank has been calculating how much it would really cost to gift everything in the song. The total bill would be a whopping £135,276.83.
To put it in perspective, you could buy 79,574 copies of The People's Friend for that price, or take out a year subscription for 1,878 friends.
No wonder the Grinch thought it was all getting a bit much!
---
For more great Fiction content from "The People's Friend", click here.