Features Sneak Peek: January 8, 2022 Issue
---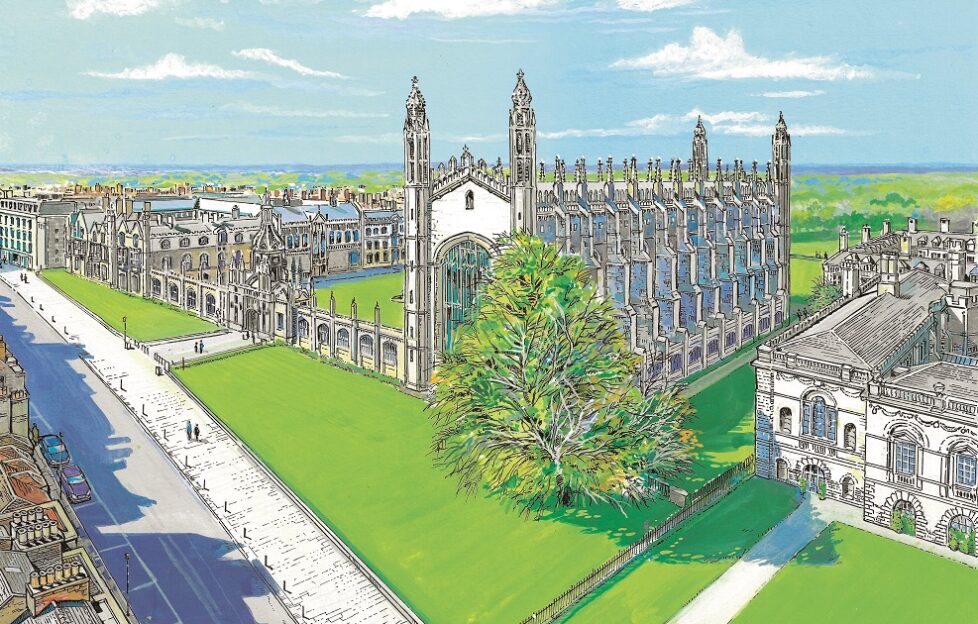 Illustration by DC Thomson Ltd.
Neil McAllister takes in the delights of charming Cambridge in the January 8, 2022 issue of "The People's Friend".
Join Neil as he finds himself enchanted by this cultural city, home to one of the world's oldest and most prestigious universities.
The Botanic Gardens are a must-see, home to more than 8,000 plants from around the world. One apple tree there was supposedly propagated from the one which dropped an apple on Sir Isaac Newton's head.
We will also take in the Fitzwilliam Museum, where Neil is enchanted by the impressionist and Pre-Raphaelite paintings.
We'll also see St Botolph's Church clock – just don't rely on it as it's an hour late. Dr John Taylor's Corpus clock is more accurate. The golden dial has no hands, but three rings of tiny lights show the hours, minutes and seconds. There's so much to see and do in Cambridge that one might wish to be able to time travel…
Tiny Forest
Picture a forest. A vast space populated with several different species of tree, home to wildlife and plant life galore.
In the UK, we're lucky enough to have over 1.4 hectares of natural forest, including famous locations such as the New Forest and Robin Hood's stomping ground in Sherwood, which stretch for hundreds or even thousands of kilometres.
Now imagine a forest the size of a tennis court. It may seem impossible but the Tiny Forest project is working to create small, dense forest areas throughout the UK, on land as small as 200 square metres.
Gillian Harvey chats to Louise Hartley, who manages the programme, to find out more.
Exotic Visitors
In part two of her Exotic Visitors feature, Polly Pullar marvels at the birds wintering in the UK to escape the harsher climes further north.
As well as the unusual, two lovely birds from the the far north put in an appearance around the country every year. They are the snow bunting and the brambling.
These particular birds fill Polly with glee, though she has never spotted either in her garden. Her photographer friend, Keith Harvey, was lucky enough to have both right next to his house high on a hillside above the village of Grandtully in Highland Perthshire.
See inside the magazine for some beautiful photographs.
Sensational Shirley
As Dame Shirley Bassey celebrates her eighty-fifth birthday, Lorna Cowan pays tribute to the Welsh singer's incredible career.
World famous for her sultry singing voice, dazzling smile and glittering gowns, Dame Shirley has been wowing audiences for almost seven decades.
Fans love her renditions of "Big Spender" and "Kiss Me", among others. She's the only artist to have sung the theme tune to three James Bond films.
Read more about the lovely lady in the magazine.
Remarkable Cities
As Perth is added to a prestigious UNESCO list, Features Ed Alex discovers some of the other cities recognised for their arts and crafts heritage.
Hangzhou, in China, is famed for its green tea, and in the 18th century, Emperor Qianlong declared it a cure for all ills after it miraculously healed his sick mother. Meanwhile, Madaba, in Jordan, is known for its mosaics. Read more inside in the magazine.
These are just a few highlights from the January 8, 2022 issue. Elsewhere, we have a collection of winter-warmer recipes . Plus we have a knitting pattern to make a cabled sweater.
We hope you enjoy it. Let us know what you think.
---
Has this sneak peek at our January 8, 2022 issue encouraged you to subscribe to the "Friend"? Click here. If you do, your "Friend" will come straight to your doorstep! 
You can also take out a digital subscription, meaning your issue will come straight to your computer, tablet or phone! And it's great value for money. Click here for a sneak peek at that!