Writing Prompt Story Starter: The Roaring Twenties
---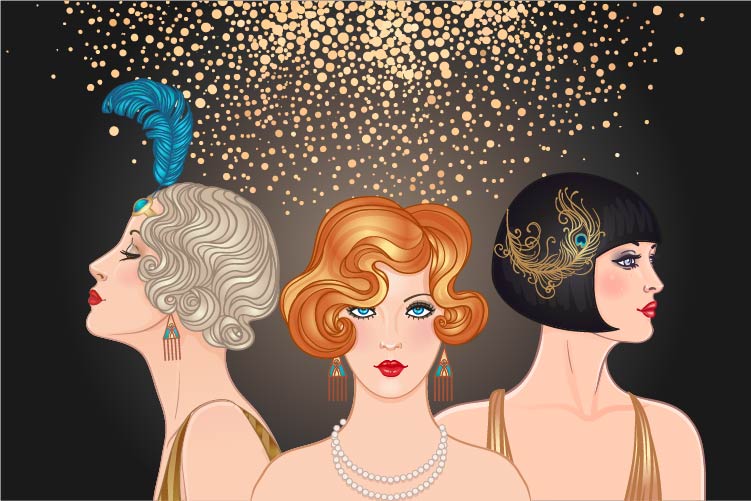 Shutterstock.
This image jumped right out at me – "the roaring twenties" was such a visually stunning, fascinating time.
This stirs up lots of potential story ideas and genres.
Three's a crowd
Well, sometimes it is.
Do you think these three ladies are close friends? Are two closer and the third simply troublesome?
Dynamics in friendships can be a great backbone for a story, because straight away there's a suggestion of history and drama.
They could also have an unbreakable bond due a secret they share. Are they privileged? Do they all come from the same background?
Charlie's Angels
A crime-fighting trio, perhaps?
Just like the contemporary investigators, these ladies in our image could be sleuths.
Would they find it trickier back then to pursue such a career? More than likely!
There's a cosy crime story just waiting to be written.
Fancy dress
Maybe your story could be bang up to date and in fact, the women in the image are at a themed party? Your story could be fun, or serious. Romantic or general.
The silver screen
This could be a scene from a film or TV drama?
Attention to detail would be hugely important to make the story believable.
That's a great way to add flesh to the bones of your story.
It's important to give the reader a sense of time and place and historical stories offer up great opportunities to weave events and customs into your writing.
---
For more story starting inspiration, click here.
Subscribe to "The People's Friend" today and we'll deliver a fantastic magazine straight to your door every week. We pack every issue with 9 brand-new short stories. Reading them is one of the best sources of writing inspiration you could ask for!