Features Sneak Peek: January 15, 2022 Issue
---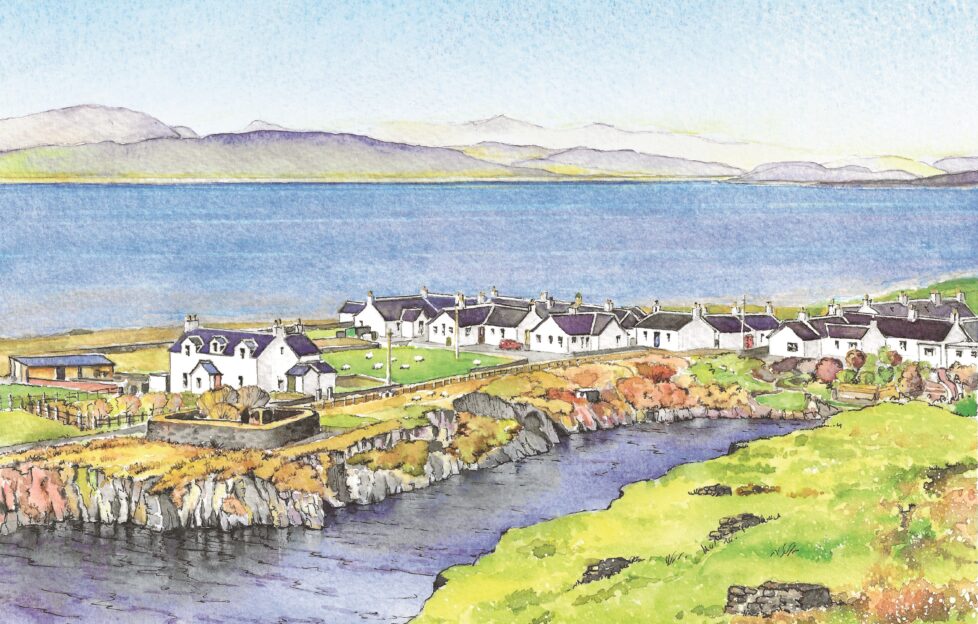 Illustration by DC Thomson Ltd.
Willie Shand swaps car for bicycle on the beautiful island of Luing, in the January 15, 2022 issue of "The People's Friend".
Join Willie as he cycles out by Kilbrandon Church to the slipway and watches a shoal of kayakers paddling into the bay. It's very peaceful watching the jellyfish float and spotting large scallop shells on the seabed.
Luing, at only six miles long, is perfect for exploring on a bike – though you might find yourself out of puff at some of the steeper bits of track. However, at the top of the brae, a fantastic vista opens up over Torsa, Seil and a scattering of other tiny uninhabited islands.
The Hebridean Baker
Baker Coinneach MacLeod, a resident of the Isle of Lewis, rose to fame during the pandemic, thanks to his social-media videos, all delivered in his trademark island lilt.
He showed people how to make hearty, home-made food using great Scottish produce, as well as introducing people to his beautiful home area.
His first video was baking a spiced ginger loaf. Three months later, he was featured in "Elle" magazine in the USA. Features Ed Alex chats to The Hebridean Baker to find out more.
Globemakers
Peter Bellerby's search for a memorable gift for his father led to him embarking on an unusual new career.
Peter wanted to give his dad a globe for his eightieth birthday. However, he discovered the traditional art of globe-making had all but disappeared.
As a result, Peter went on to teach himself the craft and went on to create Bellerby & Co Globemakers.
Now, the company is widely acknowledged as one of the finest globe-making companies in the world. Janey Swanson finds out more.
Maddie Moate
If you don't spend a lot of time around children, it's just possible you might have missed Maddie Moate.
With boundless energy and curiosity, the BAFTA-winning presenter and YouTuber presents programmes for young people that answer every "why" question you could ever ask and more besides.
As well as a popular CBeebies series, Maddie has her own YouTube channel and podcast and has made numerous TV and radio appearances.
Marion on the Features Team caught up with Maddie in the midst of a busy panto rehearsal schedule to ask about science, sustainability and her hopes for the future.
Elsewhere, you can enjoy a fresh start with our collection of tasty breakfast recipes. Plus we have a knitting pattern to make a fisherman's rib sweater with a modern twist.
We hope you enjoy it. Let us know what you think.
---
Has this sneak peek at our January 15, 2022 issue encouraged you to subscribe to the "Friend"? Click here. If you do, your "Friend" will come straight to your doorstep! 
You can also take out a digital subscription, meaning your issue will come straight to your computer, tablet or phone! And it's great value for money. Click here for a sneak peek at that!