Orange Marmalade Loaf
---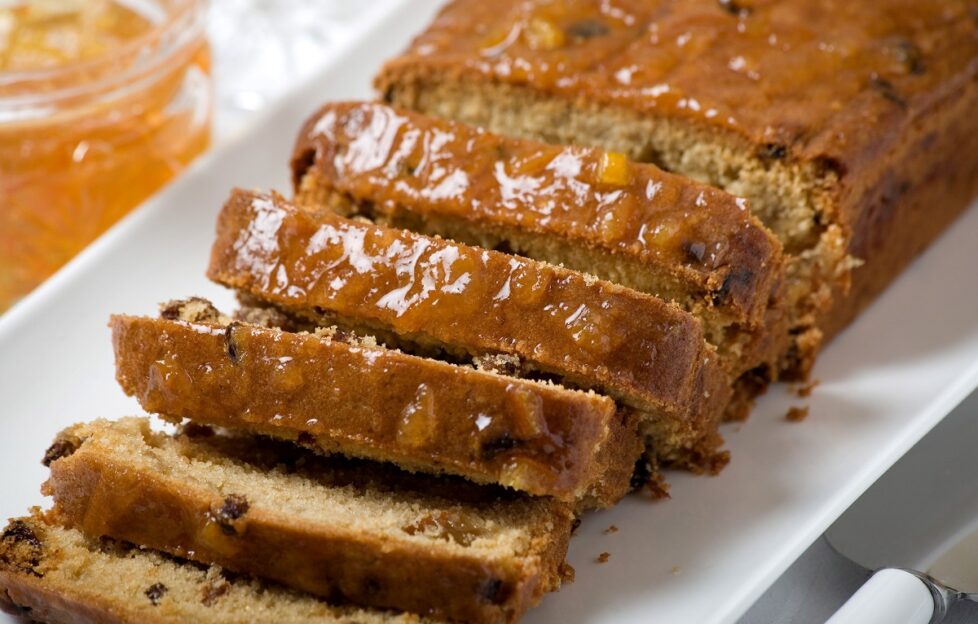 Image courtesy of Deans.
Ingredients
175 g (6 oz) self-raising flour
115 g (4 oz) butter
Pinch of salt
85 g (3 oz) sultanas
85 g (3 oz) soft brown sugar
2 medium free range eggs, beaten
150 g (5½ oz) orange marmalade, plus 2 tablespoons extra for the glaze
Recipe courtesy of Deans.
It's marmalade making season once again, so we're bringing you a tasty treat you can enjoy any time of day (with a nice cup of tea): an Orange Marmalade Loaf!
This recipe makes one cake.
Method:
Pre-heat oven to 180 deg C., 350 deg. F., Gas Mark 4. Line a 900 g (2 lb) loaf tin with baking parchment.
Rub the flour, butter and salt together until the mixture resembles fine breadcrumbs, then stir in the sultanas and sugar. Pour in the beaten eggs and mix well.
Spoon one third of the mixture into the lined loaf tin then spread over half the marmalade. Top this with another third of the cake mixture then the other half of the marmalade. Finish with the remaining third of the cake mixture, smoothing over the top.
Bake in the pre-heated oven for about 1 hour or until golden brown and firm to touch. Leave to cool slightly in the tin before turning on to a wire rack.
Warm the extra 2 tablespoons of marmalade and brush over the cake while still warm.
Leave to cool completely then cut into slices to serve.
Enjoy!
---
Looking for some more tea-time cake options? Give this Spiced Carrot Cake With Cream Cheese And Butter Icing, or this delicious Ginger And Custard Crumble Cake? 
And there are plenty more recipes of all shapes and sizes on our Cookery pages, and in every of our weekly magazine!