Features Sneak Peek: January 29, 2022
---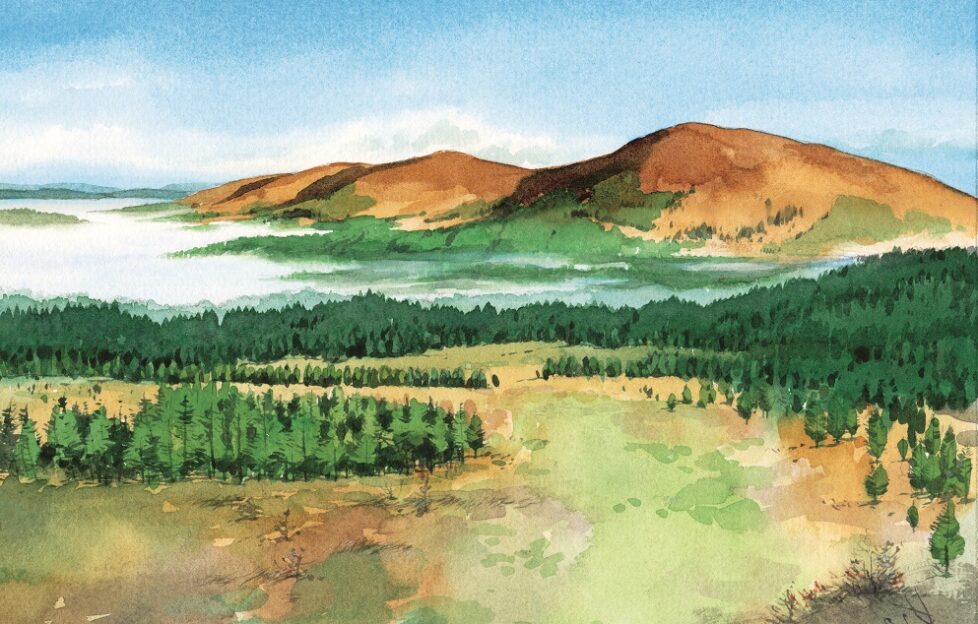 Illustration by DC Thomson Ltd.
Willie Shand takes a journey into the stunning forest at the heart of the Cairngorms, in the January 29, 2022 issue of "The People's Friend".
One of Willie's favourite Scottish trees is the Scots pine and he takes us to Glenmore, one of the finest places in Britain to see the natural Caledonian pine forest.
Set within this area is Loch Morlich, its sheltered waters often providing wonderful reflections of the Cairngorms. We'll take a stroll along a sandy beach claimed to be the highest in Scotland.
It's a lovely part of the world to while away a few hours.
Desert Island Discs
Most of us probably wouldn't want to be marooned on a desert island. However, there is one such place that, if it were real, would be exclusively populated by around 4,000 of the most famous castaways in history.
There would be plenty of music to listen to, since each inhabitant is allowed to take eight records with them, plus a book and luxury item of their choice.
Still going strong after 80 years, "Desert Island Discs" is the world's longest-running chat show. It has featured guests ranging from Kenneth Williams and George Michael to Bill Gates and Princess Margaret.
Sue Lawley presented the show, as have other top names, including Michael Parkinson, Kirsty Young and current presenter Lauren Laverne. Douglas McPherson looks back on 80 years of the popular Radio 4 show.
Trees For Life
Growing up surrounded by woodland, Michael Yellowlees admits he really took trees for granted. However, all of that changed when being around them helped him through the toughest time of his life.
Worried by the fragile state of the world's trees, Michael decided to give something back by raising both funds and awareness.
Not only that, but Michael did that in the most epic fashion, embarking on a nine-month, 5,000-mile trek across the wilds of Canada for charity Trees For Life. Bill Gibb finds out more in the magazine.
Living Paintings
Thousands of blind and partially sighted people borrow "Touch To See" books from Living Paintings' free library every year.
Incredibly, the charity began almost by accident after its founder, Alison Oldland, found herself describing images used in one of her presentations for a blind attendee. Realising that there could be a way for blind people to enjoy a work of art, Alison brought together a group of people to trial different types of audio description.
The combination of senses of touch, hearing and sound provide access to the pictures that sighted people almost take for granted. Alison Oldland's project led to the creation of Living Paintings. For those who have lost their sight as adults, the charity can be a godsend. Ali Henderson finds out more.
Elsewhere, we have a collection of recipes to celebrate the Chinese New Year. Plus we have a knitting pattern to make a modern sweater.
We hope you enjoy it. Let us know what you think.
---
Has this sneak peek at our January 29, 2022 issue encouraged you to subscribe to the "Friend"? Click here. If you do, your "Friend" will come straight to your doorstep! 
You can also take out a digital subscription, meaning your issue will come straight to your computer, tablet or phone! And it's great value for money. Click here for a sneak peek at that!