Szechuan Pork, Watercress and Broccoli Stir-fry
---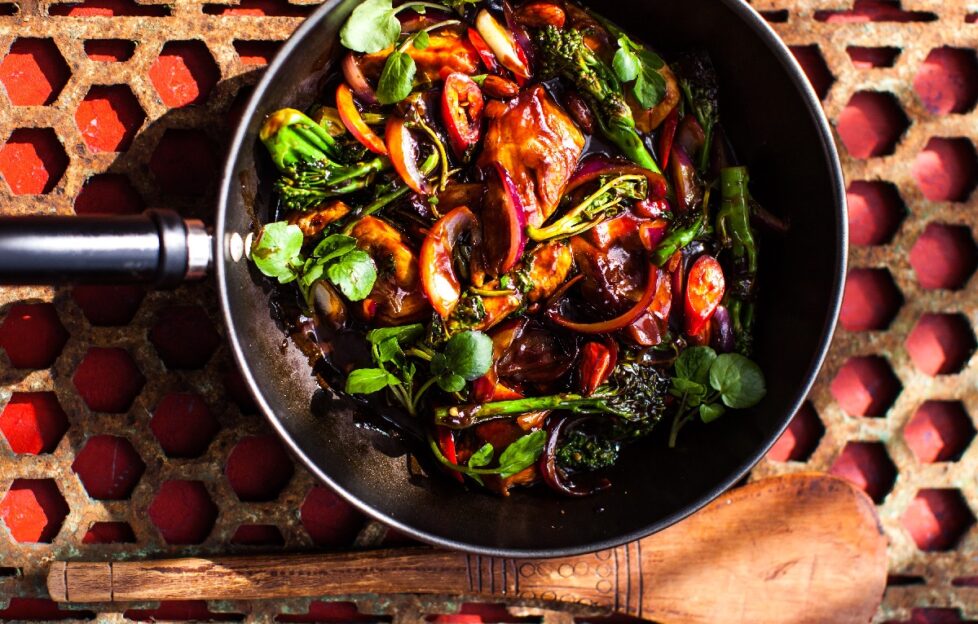 Photograph by Lara Jane Thorpe.
Ingredients
1 tbs vegetable oil
500 g (1 lb 2 oz) pork tenderloin, cut into thick slices
Salt and freshly ground black pepper, to taste
½ a head of broccoli, cut into florets
1 red onion, sliced thickly
50 g (1¾ oz) toasted cashews
1 x 85 g bag watercress
1 red chilli, sliced, optional
For the Sauce:
2 cloves garlic, chopped finely
1 tbs fresh ginger, chopped finely
1 tsp sesame oil
2 tbs rice vinegar
50 ml (2 fl oz) dark soy sauce
50 ml (2 fl oz) vegetable stock
2 tbs sugar
1 tbs cornflour whisked with 1 tbs water
Recipe created by development chef Keri Astill-Frew for The Watercress Company.
This week, millions of people all over the world celebrated Chinese New Year. We're celebrating, too, with this Szechuan Pork, Watercress and Broccoli Stir-fry!
Our recipe serves four.
Method:
To make the sauce, in a small bowl, mix together the sauce ingredients and set aside.
Heat the vegetable oil in a large wok.
Season the pork slices well with salt and pepper and batch fry in the oil, searing quickly on the outside to give colour then setting aside on a plate for later. Do not cook the pork for too long or it will become dry.
Keeping the wok on the heat, add in the broccoli and onion.
Fry for a couple of minutes, then add the pork, cashews, watercress and chilli if using.
Pour in the sauce and cook for a further 3 to 4 minutes, or until sauce is simmering and has thickened nicely. Ensure that the pork is cooked through before serving.
Enjoy!
Interested in learning a little more about Chinese New Year? Click here to read about some of the history and traditions behind it.
---
Enjoy your Szechuan Pork, Watercress and Broccoli Stir-fry? There are plenty more recipes to get your teeth into on our website's Cookery pages. Why not try this Chinese Barbecue Gammon And Pineapple, for example?
And if that's not enough, we publish great recipes every week in "The People's Friend". Subscribe today, and your issues will arrive on your doorstep every week. Before they make it to the shops!