Features Sneak Peek: March 5, 2022
---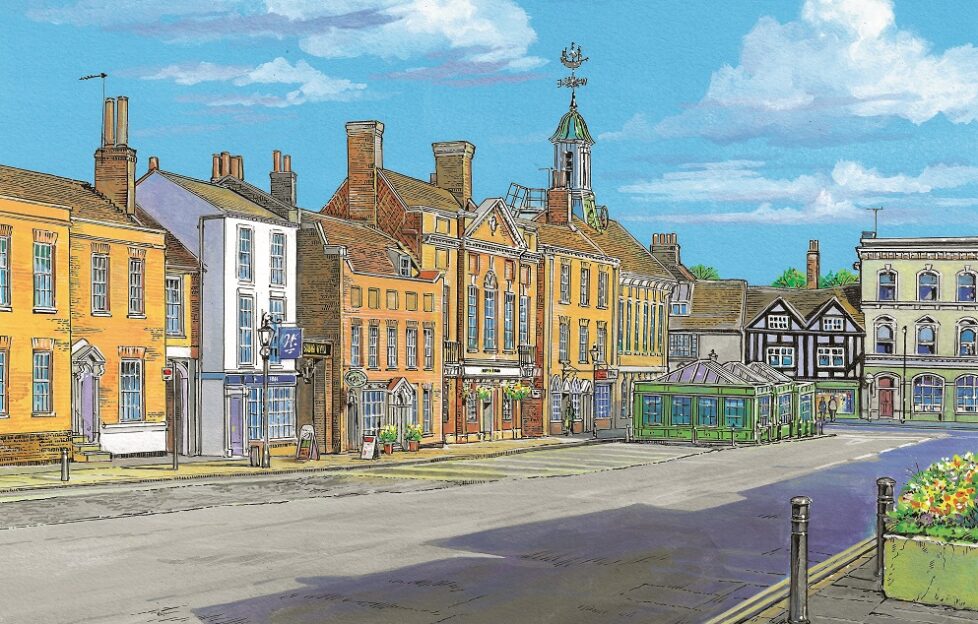 Illustration by DC Thomson Ltd.
Pat Coulter enjoys a crafty day out in Farnham, in the March 5, 2022 issue of "The People's Friend".
Farnham has just been named "World Craft City", the first location in England to receive the award. Set within the rural backdrop of the Surrey Hills, there's much to admire in this town, with its splendid Georgian architecture, castle and intriguing cobbled thoroughfares, all set alongside the River Wey.
Hitting the craft trail, our day begins at the Farnham Pottery. The showcase is the hands-on pottery studios, brimming with talented, renowned artists. It's a place, too, where would-be potters can "have a throw", moulding wet clay wobbling on the potter's wheel.
Knitters will enjoy a visit to The Maltings. Here, they hold regular craft workshops, which are always popular. Willow weaving and Japanese calligraphy classes are always popular. However, they have weekly knitting and crochet sessions as well.
A visit to the Rural Life Living Museum is a must, too. There are some 40,000 artefacts, from rural crafts to brick- and tile making. One thing is certain. There is plenty to do here to prevent boredom from kicking in!
Give Them A Bell
To mark the 175th anniversary of Alexander Graham Bell's birth, Lorna Cowan shares ten facts about the brilliant Scottish inventor.
Did you know that Helen Keller was a student of the inventor of the telephone? She attended his School of Vocal Physiology and Mechanics of Speech in Boston. Deaf and blind, Keller praised Bell for dedicating his life to helping people like her break through an "inhuman silence".
Read this and more interesting facts in the magazine.
Grow Your Own Loofah
We're ever more keen to be sustainable and minimise plastic waste. With that in mind, Susie Kearley takes you step by step through the process of growing your own loofah.
You can use these sponges to exfoliate the skin. However, they can also be used to clean your home. Find out in the magazine how you can make your own.
Dormouse Scheme
They are so tiny they fit snugly in the palm of your hand and so cute their big eyes would melt the hardest of hearts. However, the lot of the humble hazel dormouse hasn't been an easy one.
They have vanished from much of the countryside in which they used to roam so freely – and their very existence has been threatened. Now, happily, things are looking up for these gorgeous little creatures.
Bill Gibb chats to Ian White, who is passionate about creating a brighter future for the humble hazel dormouse.
Elsewhere, we have a collection of quick and easy fish dishes. Plus we have a knitting pattern to make a child's gilet.
We hope you enjoy it. Let us know what you think.
---
Has this sneak peek at our March 5, 2022 issue encouraged you to subscribe to the "Friend"? Click here. If you do, your "Friend" will come straight to your doorstep! 
You can also take out a digital subscription, meaning your issue will come straight to your computer, tablet or phone! And it's great value for money. Click here for a sneak peek at that!