Lisa Joined A Tangle For Ukraine Event
---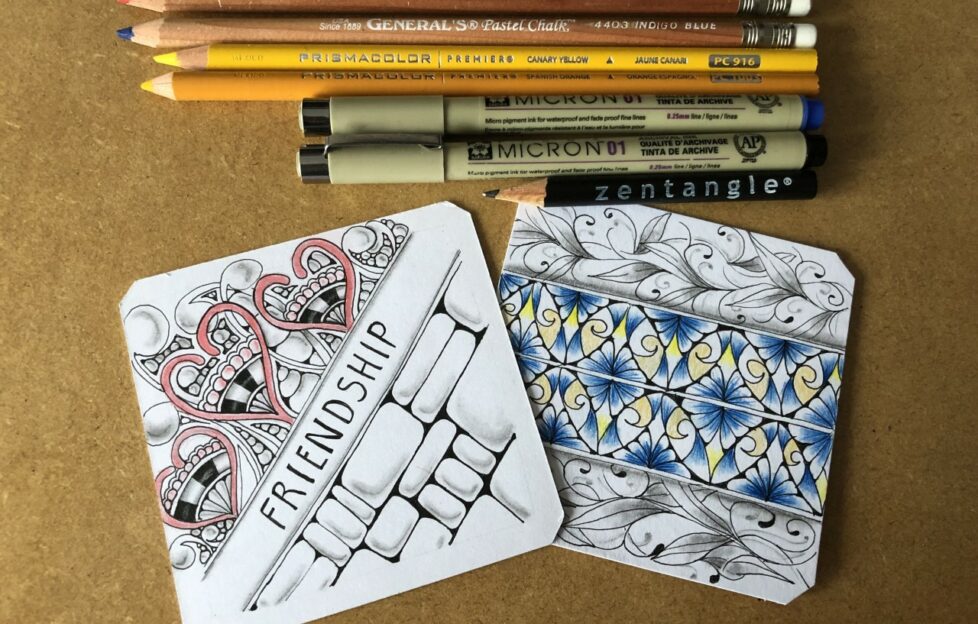 Photograph by Lisa Crow.
Regular readers may know that I am very creative, as I have previously blogged about crochet, calligraphy and Zentangle. At the weekend I enjoyed a Tangle For Ukraine event.
With Russia having invaded Ukraine, I have seen people showing their support for Ukraine in various imaginative ways, and the tangling community was no exception.
Joanna Quincey, known in Zentangle circles as Zenjo, decided to host an event that would simultaneously bring people together and raise money for the Red Cross. She invited people to join her for two hours of tangling to help raise funds for essential humanitarian aid.
"Together we can unite in creative friendship to do what we can for those in need," she said.
In exchange for £15, Joanna taught us two different "tiles" with an option to attend live or purchase a recording.
Another Tangle For Ukraine Event
During the event, Joanna taught us how to do one pattern called Ando and another called Scrawlz for a tile that we coloured in blue and yellow, to represent the Ukrainian flag.
The second tile featured a word chosen by each tangler. Joanna suggested various words relevant to the situation and her own tile featured the word "Peace". Other tanglers had "Hope" and "Freedom". I opted for "Friendship".
Joanna revealed on her social-media channels that she had been overwhelmed by the support she had received for her fundraising mission. In fact, in just four days, she raised an incredible £2,101.51. The money has already been donated to the Red Cross.
As Joanna said, the devastating situation in Ukraine is not going to ease anytime soon, and she intends to run another fundraising Tangle for Ukraine event in the near future.
"As individuals we may wonder what we can do. Together we can make a difference," she said.
Joanna said that she plans to create a "mosaic" of everyone's tiles on her Facebook page.
---
Click here for more from the "Friend" team.