St Patrick's Day: The Mourne Mountains
---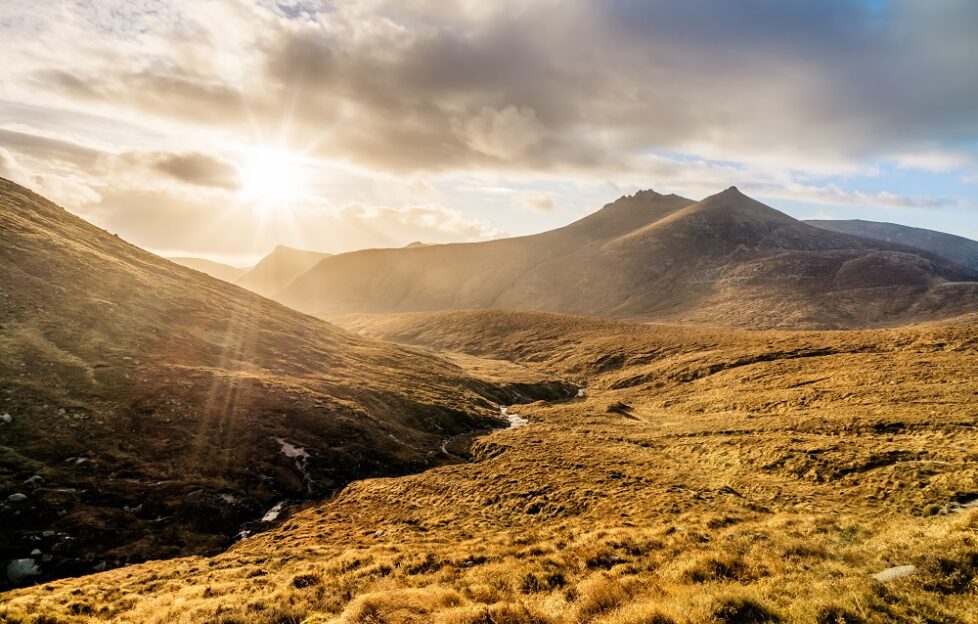 Shutterstock.
On St Patrick's Day, we're revisiting Neil McAllister's trip to the Mourne Mountains in Northern Ireland.
---
We followed the High Mournes Scenic Loop to combine some easy motoring, scenic sightseeing and a few easy ambles below the peaks.
The road passes Tollymore Forest Park, where the £5 parking charge may discourage casual visitors! However, it's a great place to park up for the day to enjoy many miles of marked trails.
Beyond Bryansford, we cut on to a beautiful lane beside the Shimna River. There were wonderful vistas down the valley to the Butter Mountain. Here, farmers would store their dairy produce in the cold bogs.
The Silent Valley
A short diversion allowed us to enjoy the breeze passing over Spelga Dam. This would have once supplied Hazel's Portadown-born mother with drinking water. Then we turned south on the Kilkeel road.
Our plan was to enjoy a sheltered walk in Silent Valley, where a £4.50 investment gives access to waterside walks or mountain trails, most of which encounter the region's most unexpected feature.
When Silent Valley and Ben Crom Reservoirs were created, the Mourne Wall was built to keep grazing animals away from their water catchment area. Twenty-two miles long and up to eight feet high, this man-made wonder is a sort of Great Wall of Northern Ireland.
Undisputed Beauty
Looking out across the water past Slievenalogh towards the rugged peaks, I reflected it was no wonder the Mournes have been designated an Area of Outstanding Natural Beauty. Indeed, they make the term seem inadequate. Come for one of the walking festivals, come to play golf, drive, enjoy the views or simply get your fill of superb local cuisine. But remember to add the Mournes to your to-do list. You definitely won't be disappointed.
---
Catch up with some our other Travel blogs.
Never miss our lovely cover features again, with a subscription!