Features Sneak Peek: April 2, 2022 Issue
---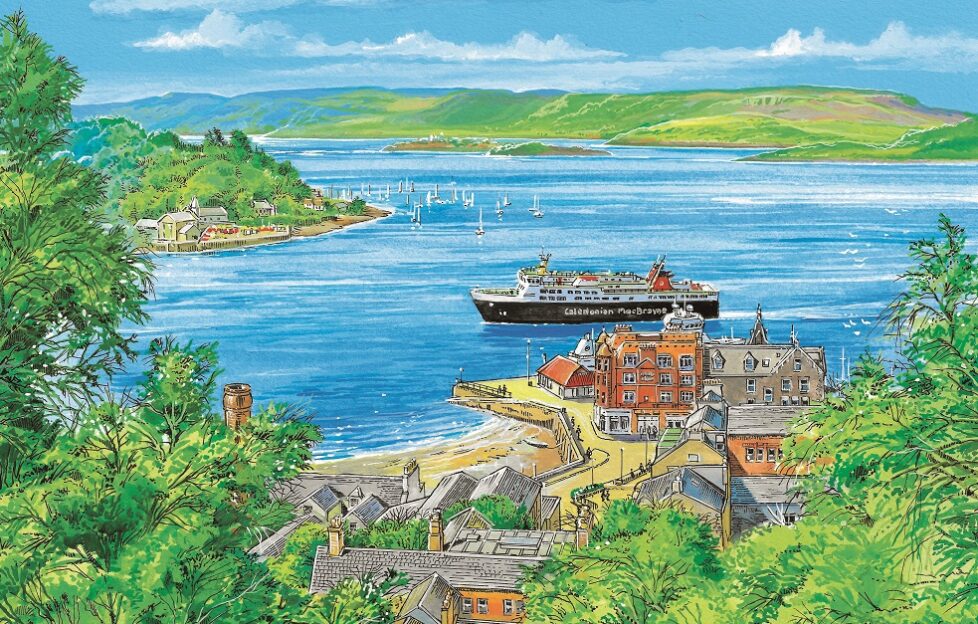 Illustration by DC Thomson Ltd.
Willie Shand visits Oban, in the April 2, 2022 issue of "The People's Friend".
Join Willie as he discovers how this popular Argyll town, known as the "Gateway To The Isles", has changed in the last 100 years. Mackay's guide to Oban, published in 1922, is about to celebrate its 100th anniversary. As Willie is keen to point out, it's fascinating reading through the old guide and seeing what's changed and what hasn't.
Even when the guide was first published, it was a great magnet for travellers. However, these days, the town has grown somewhat to accommodate the increase in visitors.
Dunollie Castle claims its fair share of tourists. It's been watching over the entrance to Oban Bay and Kerrera since the 12th century, with parts dating back over 1,300 years. However, it's McCaig's Tower that is Oban's most prominent landmark.
Almost 660 feet round, and with some 94 lancet arched openings, the grand circular structure was never completed.
We'll visit the tower and many other tourist hotspots as Willie compares old with new.
Tiny Tim's Children's Centre
For 25 years, Tiny Tim's Children's Centre has been providing children with disabilities and special needs with life-changing treatments.
Treatments offered include physiotherapy, occupational therapy and a range of specialist massage therapies.
Tiny Tim's therapists work with children with muscular dystrophy, Down's syndrome, cerebral palsy, incurable conditions and behavioural issues.
Janey Swanson chats to Sarah Hemmings about the treatments offered at the centre, which enriches the lives of the children it helps.
Talking Mats
Being able to communicate with others is a fundamental part of being human.
Those who find themselves unable to speak – perhaps after a stroke or as a result of a genetic condition – sometimes experience unimaginable frustration.
Communicating basic needs, such as hunger or thirst, can be overcome by developing personalised solutions with familiar carers. But what about more specific health needs, or more complex thoughts and feelings?
This is where Talking Mats comes in. Gillian Harvey chats to company director Lois Cameron about a tool that is giving a voice to people who are unable to speak.
Jane Dotchin
As we get older, it's normal for some of the more physically challenging activities of our youth to fall by the wayside.
But horse-lover Jane Dotchin, who has taken to the road with her horse and a tent for a seven-week adventure for the last 50 years, has no plans to give up her annual journey.
It started back in 1972, when a friend of Jane's got married and moved to Bristol. Jane was invited to visit her friend but didn't want to leave her stallion behind, so decided to take him with her. The journey from Hexham, Northumberland, to Bristol is over 600 miles.
Jane travelled with a few essentials and a tent, choosing to shun traditional stop-overs and campsites in favour of wild camping. The experience suited her so much that she has continued it to this day. Gillian Harvey met Jane to find out more.
Elsewhere in the April 2, 2022 issue, we have a collection of delicious recipes for meals made with lamb. Plus we have a knitting pattern to make a textured gilet.
We hope you enjoy it. Let us know what you think.
---
Has this sneak peek at our April 2 , 2022 issue encouraged you to subscribe to the "Friend"? Click here. If you do, your "Friend" will come straight to your doorstep! 
You can also take out a digital subscription, meaning your issue will come straight to your computer, tablet or phone! And it's great value for money. Click here for a sneak peek at that!