Book Review: "A Terrible Kindness" by Jo Browning Wroe
---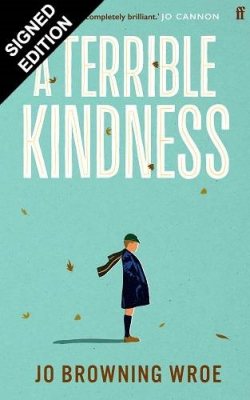 Cover by Waterstones.
I'll put a little word of warning out there first and say the opening chapters of this book are heart-breaking. The story opens with the Aberfan disaster and that's when we first meet our main character 19-year-old William Lavery, who has just completed his training as an undertaker so he can join the family firm. When a call goes out for help just after the disaster, William doesn't hesitate to help.
"A Terrible Kindness" therefore has a very powerful beginning. Jo Browning Wroe discusses the Aberfan setting in her notes at the end of the book, and she has taken the events and the aftermath very seriously. She spoke to people who were involved in those tragic events back in 1966 and explains why she felt their story should be told.
"I'm not cut out for family life"
Despite the most tragic of scenarios, this is a book that is filled with love, hope, friendship and forgiveness. William's life is for ever changed after his involvement in the aftermath of Aberfan and he decides at this tender age that he never wants to be a father. He's seen first hand was loss looks and feels like.
This is when we go back to William's own childhood. He's brought up in a loving family which is temporarily shattered when his father dies. He's a talented young chorister and wins a place, at the age of ten, to a Cambridge boarding school to join their boys' choir. Things go well and it looks like a life in music will be paved out for William, until something happens . . .
We find out later on what caused him to change his mind and make him the reflective 19-year-old we meet at the start of the book.
"A terrible kindness they did for us"
Threading through the story are fierce friendships and loving family members, beautiful music and at times frustration as William forgives those around him, but finds it difficult to forgive himself. Overall this is a truly beautiful story and I actually played some of the music and songs in the background while I was reading it.  It's a story about facing your demons, trusting in those who love you and helping people when you can.
For more book reviews, click here.