Features Sneak Peek: April 16, 2022 Issue
---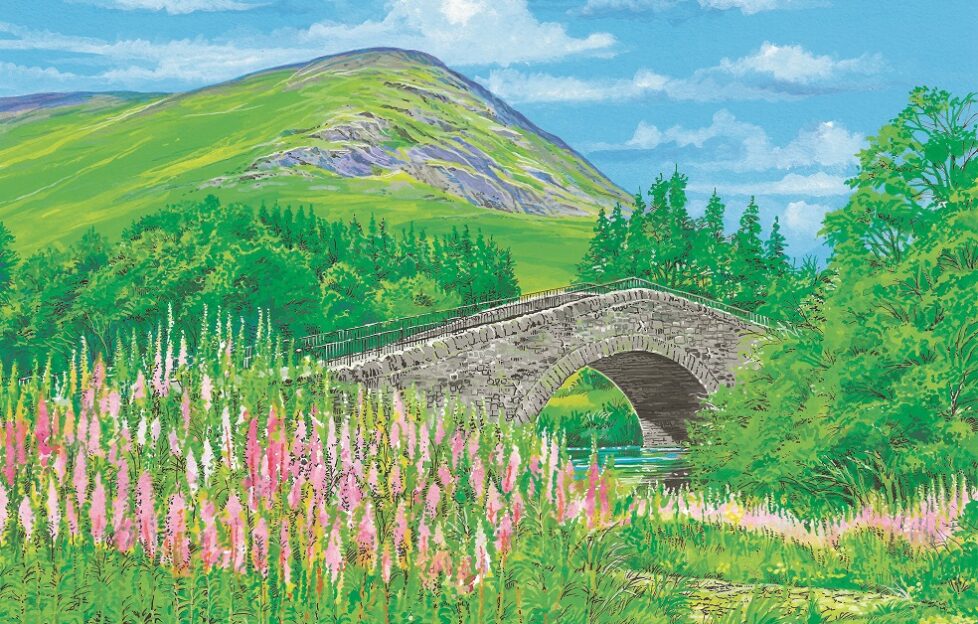 Illustration by DC Thomson.
Willie Shand follows the historic Cateran trail through the unspoilt landscapes around the Spittal of Glenshee, in the April 16, 2022 issue of "The People's Friend".
Join Willie as he visits a boulder hiding in the woods just overlooking the Castle of Dalnaglar. The story of how it came to be there goes back to around the year 1635. Willie will reveal more in the magazine.
We will also walk along part of the long-distance Cateran trail, to visit the well-hidden Loch Beanie.
From carpets of purple thistles to scurrying rabbits and a lone Highland cow, there will be plenty of photo opportunities along the way.
Monkee Business
First there was Beatlemania, then came Dalekmania. However, 1967 was the year of Monkeemania, when British teens went ape for the records, television show and sold-out Wembley concerts of the Monkees.
Conceived as America's answer to the Beatles, the Monkees were the brainchild of a pair of TV producers. They came up with the idea of a zany sitcom in the style of the Beatles film "A Hard Day's Night".
"The Monkees" was a show about four guys who lived together in a house in Malibu Beach with no authority figure. Fans couldn't get enough of them and the band's hits included "Daydream Believer" and "I'm A Believer".
Douglas McPherson recalls when Britain went bananas for the "American Beatles".
Greyfriars Bobby
Greyfriars Bobby is one of the most famous dogs in history, his story dating back to 1850, in Edinburgh.
A policeman who was lonely patrolling the streets alone at night got himself a little canine companion, Bobby.
They were devoted to each other. However, John sadly passed away from tuberculosis, in 1858.
Nothing would keep Bobby away from his master's grave, in Greyfriars Kirk, and he became well-known locally. Eventually, he was even awarded the keys to the city. Several films have been made about him and a statue has been erected in Edinburgh to pay tribute to his devotion.
On the 150th anniversary of his death, Gilly Pickup pays tribute to the Skye terrier who is remembered for his eternal devotion to his master.
Barons Court Project
The Barons Court Project is a home for those don't have a home and those who don't feel at home.
So says Michael Angus, director of the project. It is an award-winning day centre in west London for people who are homeless or have a mental health condition. Barons Court are with people every step of the way until they find employment and new accommodation. They never give up on anyone.
Guests have access to facilities such as showers, laundry and hot meals. They can also attend cookery and computer classes, and can take part in art and writing activities. Janey Swanson finds out more.
Elsewhere in the April 16, 2022 issue, we have a collection of delicious Easter recipes. Plus we have a knitting pattern to make a beautiful gansey jumper.
We hope you enjoy it. Let us know what you think.
---
Has this sneak peek at our April 16, 2022 issue encouraged you to subscribe to the "Friend"? Click here. If you do, your "Friend" will come straight to your doorstep! 
You can also take out a digital subscription, meaning your issue will come straight to your computer, tablet or phone! And it's great value for money. Click here for a sneak peek at that!