Fabric Pouch Craft Preview: April 23, 2022
---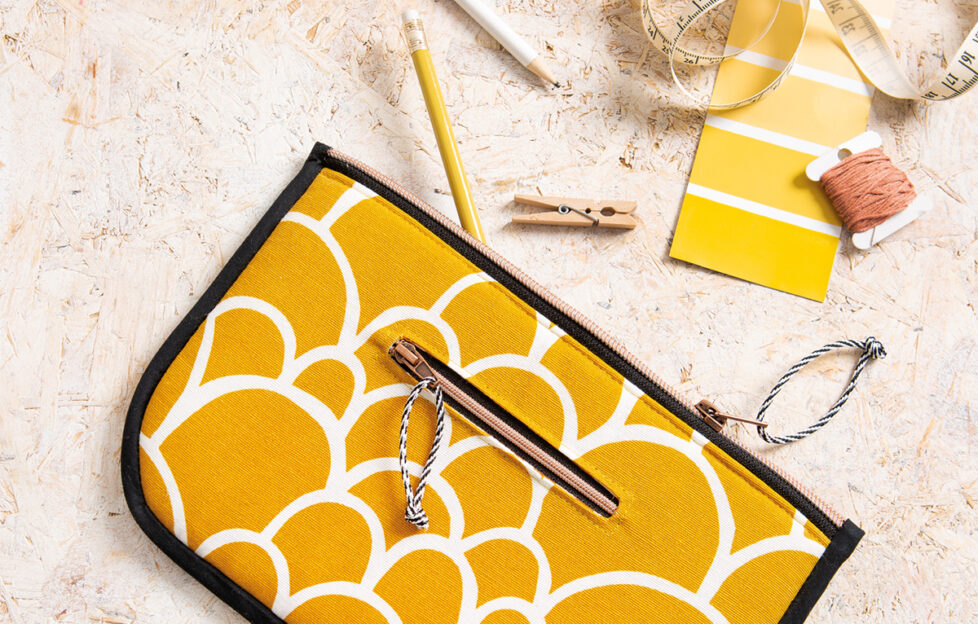 Photograph courtesy of Search Press.
Fabric Pouch Craft: How To
Difficulty: Intermediate
We have a lovely fabric pouch craft for you this week.
---
Our pouch is very versatile and is perfect for many things ranging from a make-up bag to a pencil case. It also makes a very useful gift.
To make the pouch you will need two fat quarters of fabric. One for the outer (we used canvas) and one for the lining (we used a lining-weight cotton).
You will also need foam interfacing, bias binding, two zips and baker's twine or similar. Oh, and a sewing machine!
We have graded this project as intermediate but if you're not too experienced, you'll find we have step-by-step instructions to take you through every stage of making your pouch.
The instructions come from the book, "Take Two Fat Quarters Bags & Purses" by Debbie von Grabler-Crozier, published by Search Press.
As the title suggests, it is full of bags and purses that can be made using just two fat quarters of fabric. In this week's magazine you will find an offer to buy the book post free.
We are all travelling a little lighter this year, so why not make one of our pouches and keep your money, phone and keys safe in one place.
Send it in!
The People's Friend team would love to see your creations. You can send them to peoplesfriend@dctmedia.co.uk for a chance to be shared on social media or in the magazine!
---
Find the full fabric pouch craft in our April 23, 2022 issue of "The People's Friend". On sale this Wednesday!
For more crafts, visit our Craft section. Or you can subscribe to "The People's Friend" here, to make sure you'll never miss another one of our great patterns and projects.