Asparagus and Smoky Beans on Toast Recipe
---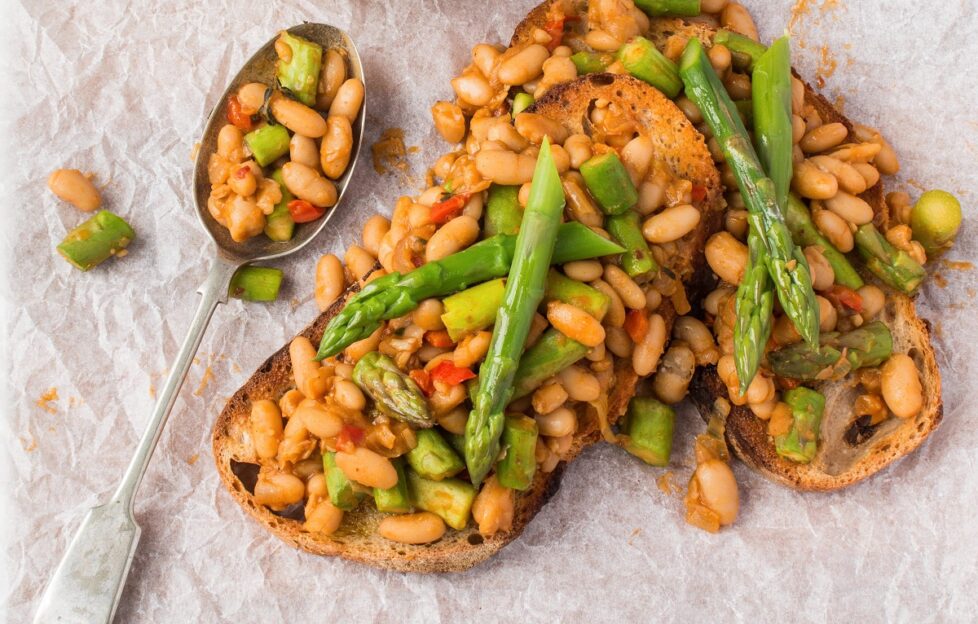 Photograph courtesy of British Asparagus.
Ingredients
2 tbs olive oil
2 echalion shallots, chopped finely
3 cloves garlic
1 red pepper, cut into small chunks
1½ tsp smoked sweet paprika
2 tsp fresh thyme leaves
½ tsp chilli flakes
Salt and freshly ground black pepper, to taste
2 cans of cannellini beans, rinsed and drained
300 g (10½ oz) asparagus (British, when in season), chopped into 2-3 cm pieces
4 slices of sourdough
Recipe and image courtesy of British Asparagus.
Want an asparagus recipe to try for National Asparagus Day? Look no further!
Coinciding with St. George's Day as it's also asparagus season, April 23rd is National Asparagus Day. To celebrate, whip up our asparagus recipe for Asparagus and Smoky Beans on Toast from British Asparagus! There are lots of benefits of eating asparagus as they're packed full of vitamins.
Serves: 4
Method:
Heat a large, heavy-based saucepan over a medium heat. Add the olive oil and shallots and cook until they have softened, about 4 minutes. Crush the garlic and add to the pan along with the pepper, paprika, thyme and chilli flakes. Allow the heat to release the aromas and continue stirring for 2 to 3 minutes.
Add the beans along with 2 cups of water. Turn up the heat and bring the mixture to a simmer. Leave to simmer for 10 minutes to allow the beans to soften and the liquid to reduce. Once the liquid has reduced, check the seasoning and add salt and pepper if necessary.
Finally, add the chopped asparagus and allow to heat through for 5 minutes until cooked but still tender. While the asparagus is cooking, put 4 slices of sourdough in the toaster or under the grill.
To serve, divide the toast on to 4 plates and spoon over the beans and asparagus. Top with a drizzle of olive oil.
The People's Friend team would love to see your creations. You can send them to peoplesfriend@dctmedia.co.uk for a chance to be shared on social media or in the magazine!
---
For more recipes, visit our Cookery section. Or you can subscribe to "The People's Friend" here, to make sure you'll never miss another one of our great patterns and projects.