Features Sneak Peek: May 14, 2022 Issue
---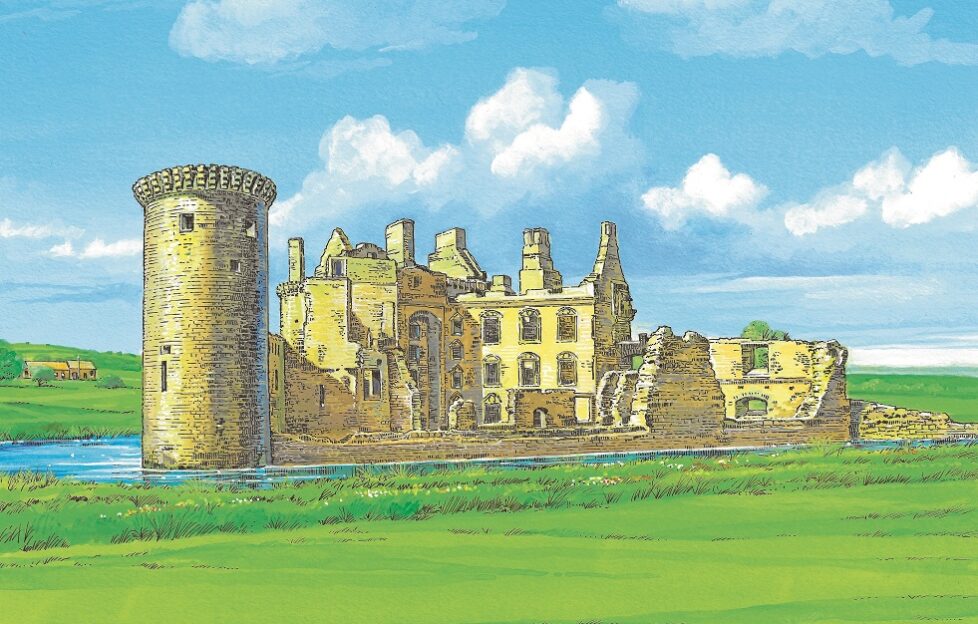 Illustration by DC Thomson Ltd.
Morag Fleming enjoys the sights and sounds of Scotland's Solway Coast, in the May 14, 2022 issue of "The People's Friend".
The coastline of the Solway Firth, in Dumfries and Galloway, is known as one of the most beautiful parts of Scotland, and it is also one of the most interesting in terms of landscape, wildlife and history.
Join Morag as she visits the Annandale Distillery. Two whiskies – the peated Man O' Sword and unpeated Man O' Words – have won awards in successive years for the best whisky under 10 ten years old.
Nature lovers will love a visit to the Caerlaverock Wetland reserve, where there are geese everywhere in winter and myriad water fowl to spot. Nearby Caerlaverock Castle is a cracker – triangular and surrounded by a moat.
Also on our itinerary is a visit to Arbigland House. There is a Japanese garden, a lake, a sundial and various nooks and crannies to explore. The garden at the front of the house with its sweeping view is wonderful. However, it's far from the only thing to be admired in this area.
Daniel McNeil
Daniel McNeil found the return to civilian life challenging when he left the Army after five years of service. He was getting into debt and having relationship problems. However, help wasn't forthcoming and Daniel felt his spirits sinking.
That was until he was put in touch with the Armed Forces charity SSAFA. They cleared his debt and offered continual help.
As a way of saying thank you, Daniel decided to do a coastal walk to raise money for the charity that helped to turn his life around.
He gave away or sold off all of his worldly possessions and set off on a walk around the coast of Britain.
Ali Henderson chatted to Daniel to find out more.
Think Pink
The first of a fleet of bright pink, female-only taxis is taking to UK streets. Initially they'll operate in Nottingham, but the aim is to see their use extended elsewhere in the country.
The idea is that they will give fresh employment opportunities to women in challenging circumstances, as well as providing safe, reassuring transportation.
It is hoped they will help a key group of isolated older ladies who have become anxious about leaving home.
The Think Pink taxis idea comes from the Rosie May Foundation charity, who have already had great success with a similar scheme in Sri Lanka.
Bill Gibb finds out more in the magazine.
Birdsong
Birdsong is not your average clothing company. Not only does the London-based firm design ethical clothes for remarkable women – it also makes them.
After dreaming up their sustainable clothing range in house, Birdsong works with expert crafters who face barriers to employment to bring their creations to life.
Birdsong ensures that the groups that they work with always receive fair pay for their work. It also ensures that every aspect of their clothes production process is ethical.
Not only are their fabrics and materials sourced from ecologically friendly and high-quality suppliers, their garments are made to order, to ensure they are not creating extra waste by producing excess clothing.
Dawn Geddes chats to Susanna Wen to find out more.
Elsewhere in the May 14, 2022 issue, we have a collection of delicious gluten-free recipes. Plus we have a knitting pattern to make a traditional Aran sweater.
We hope you enjoy it. Let us know what you think.
---
Has this sneak peek at our May 14, 2022 issue encouraged you to subscribe to the "Friend"? Click here. If you do, your "Friend" will come straight to your doorstep! 
You can also take out a digital subscription, meaning your issue will come straight to your computer, tablet or phone! And it's great value for money. Click here for a sneak peek at that!