Vegetarian Recipe: Buddha Bowl with Poached Egg & Roasted Vegetables
---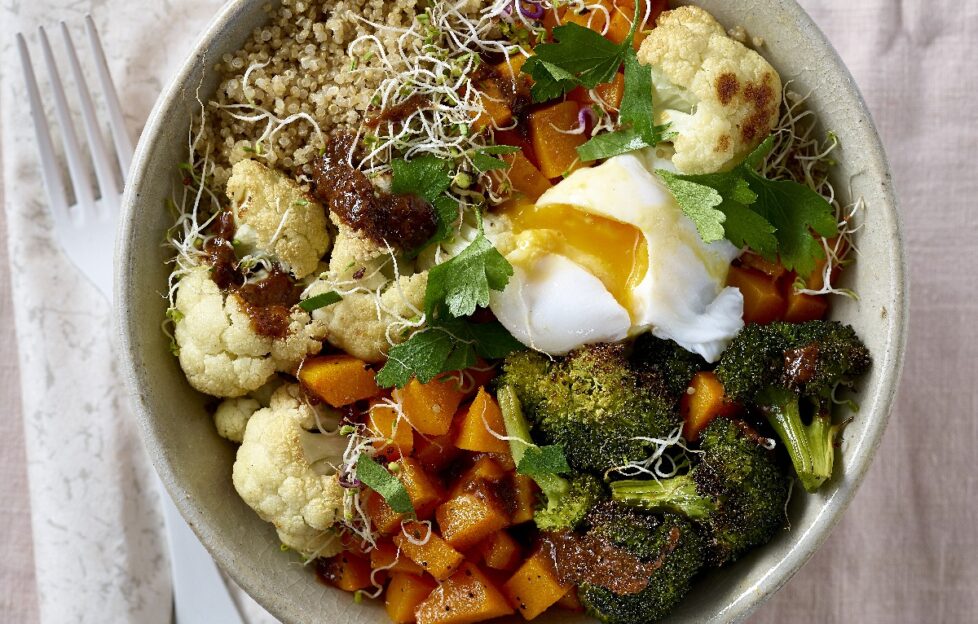 Courtesy of British Lion Eggs.
Ingredients
1 medium British Lion egg
50 g (1¾ oz) broccoli, cut into florets
50 g (1¾ oz) cauliflower, cut into florets
50 g (1¾ oz) butternut squash, skin on, cut into 2 cm (¾ in) cubes
Olive oil
Salt and freshly ground black pepper, to taste
150 g (5½ oz) quinoa, cooked following the instructions on the packaging
2 tbs white wine vinegar
For the Dressing:
1 tbs miso
1 tbs soy sauce
1 tbs cider vinegar
1 tbs sesame oil
1 tbs of your favourite sprouts/shoots
To Garnish: flat leaf parsley.
Recipe and image courtesy of British Lion eggs.
It's National Vegetarian Week so we're sharing a delicious vegetarian recipe for you to enjoy from British Lion Eggs.
---
Serves: 1
Method:
Pre-heat oven to 180 deg°C/350°F/Gas Mark 4. Line a roasting tray with baking parchment.
Start by preparing the vegetables. Put the broccoli, cauliflower and squash on the prepared roasting tray and drizzle with oil and season with salt and pepper. Shake the tray and make sure that all the vegetable chunks are covered with oil equally.
Cover the tray with kitchen foil and put in the oven. Cook for 15 minutes and take the foil off the tray. Put back in the oven and roast for another 5 to 10 minutes, until the vegetables are nicely browned and softened.
Whilst the vegetables are roasting, poach your egg. Bring a deep saucepan of water to a boil. Add the vinegar. Stir the water, crack the egg and carefully place it into the centre of the saucepan. Cook for 3 to 4 minutes. Lift the egg out and drain it on a piece of kitchen paper.
To make the dressing, in a small bowl mix together the miso, soy sauce, vinegar and sesame oil, until well combined and smooth in texture.
Assemble the bowl, starting with putting the quinoa in the centre and then placing the roasted vegetables
and the egg around it. Dress with miso dressing and sprouts.
Or try a different vegetarian recipe!
Send it in!
The People's Friend team would love to see your creations. You can send them to peoplesfriend@dctmedia.co.uk for a chance to be shared on social media or in the magazine!
---
For more recipes, visit our Cookery section. Or you can subscribe to "The People's Friend" here, to make sure you'll never miss another one of our great patterns and projects.