Fiction Sneak Peek: June 4, 2022 Issue
---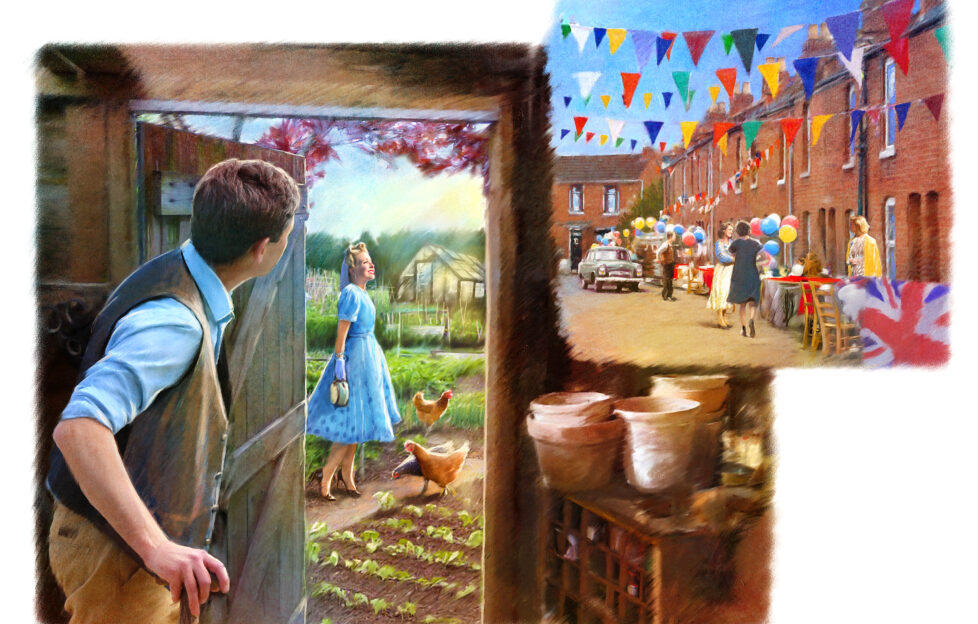 Artwork: David Young
Our latest issue is on sale this Wednesday, June 1st. Here's a quick look at the fiction you'll find inside.
Our opening story is "Where We Belong", by Teresa Ashby – set around the time of the Coronation in 1953. The war, and the years since, have changed Trevor – but not the way he feels about Violette… Artwork by David Young (above).
The village of Little Mopham plans to mark an important anniversary with a carnival. But firstly, little Fred Bunting must find a celebrity to open proceedings! "Fred And The Pink Lady", by Christine Bryant, is illustrated by Martin Baines.
Next up is Jean Robinson's "A Word Of Advice". Roslyn's mother used to remind her silence was golden, but sometimes she just can't help herself… Shutterstock illustration.
The day of the Queen's Platinum Street Party has arrived, and helper Ellis is determined to make it a success. Alyson Hilbourne's "Streets Ahead" features artwork by Tracy Fennell.
Pippa's eye-catching window displays are certainly attracting attention, in "Love And Cake", by Linda Lewis. Illustrated by Kirk Houston.
In "Digging Deep", Diana volunteers at an archaeological site, hoping to find happiness along the way. Suzan Lindsay Randle's first "Friend" short story is illustrated by Jim Dewar.
This week's final short story is "In The Wee Small Hours" – and although sleep eludes the residents of one street, they know everything will feel better by morning. By Pamela Ormondroyd, with artwork by Tracy Fennell.
Serials
It's the final part of "Lily Of The Valley" this week, and with the Grasse trip over, several truths are about to be revealed… By Alison Carter, our three-part serial set in 1924 features illustrations throughout by Andre Leonard.
A brand new serial begins next week.
And in the penultimate instalment of "The Roses Of Weston Bridge", Roxie's aunts are always on hand with sage advice… By Petrika North; artwork by Helen Welsh.
Series
It's the final instalment of Eirin Thompson's "Read All About It", and Carrie's life suddenly seems full of new possibilities.
Look out for a new series beginning next week.
And in Glenda Young's "Riverside", George has a warning to give gangster Eddie Little.