Podcast Hosting For The First Time
---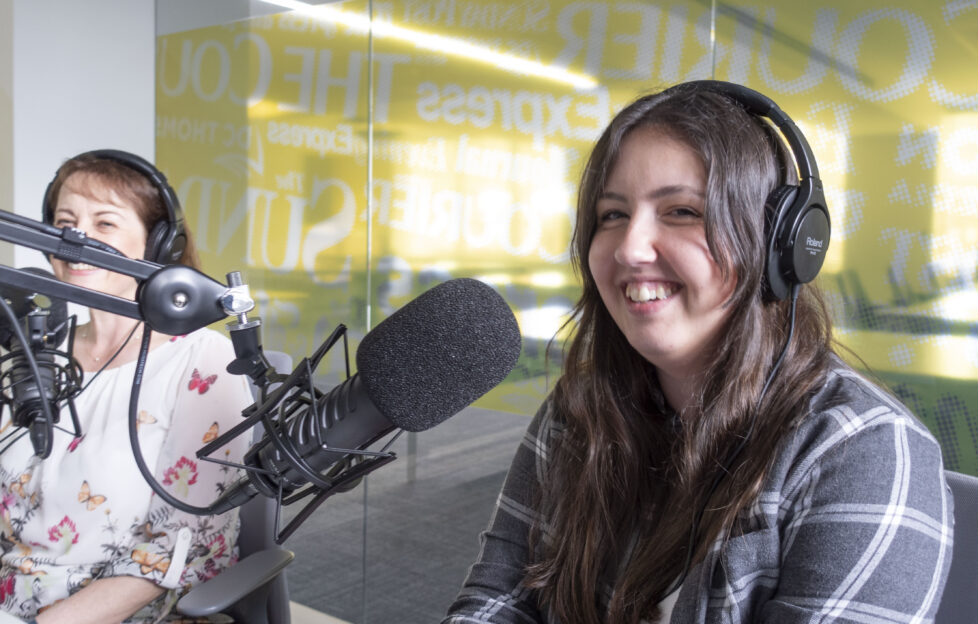 Photography by Chris Phin.
Digital Content Editor, Jacky, has been learning all things podcast behind the scenes to pick up the hosting mantle from Iain. The team recently recorded their first ever in-person episode, and Jacky shares her experience of it!
---
It's been two months since I started my role as Digital Editor with "The People's Friend", though it's so natural it feels like longer! A huge part of this role is to host and produce our story podcast, Reading Between The Lines. Iain, the previous Digital Ed, and the team launched this podcast in 2020 during lockdown so it's always been created remotely. I'm in the lucky position of being able to start afresh — learning as we make the move to in-person recording.
Podcast Editing
Iain very handily pre-recorded the remainder of season 2 before he moved on, so I started my learning process with editing some episodes. This involved shadowing our Head of Podcasts, Chris Phin, then having a go on an episode myself. To be honest, this side of podcasting comes more naturally to me! I love the technicalities — to tweak things just so, solve problems and get completely lost in the editing flow. Often I lose hours without realising, nearly forgetting lunch a couple of times!
Podcast Hosting
Once I got to grips with editing, it was time to record our first in-person episode. This will be a special episode to round off season 2 coming on June 20th. And it's all about our latest published Classics Collections book, A Maid of the Isles by Annie S. Swan. This was the part I was most nervous about!
We have to script some things (what we call 'template furniture' that appears in every episode) and bring notes and points we want to talk about. But, mostly, it's just a good natter between friends. I took a minute to warm up and stumbled a few times, but once we got into the swing of it, it was easy to forget you were even being recorded. And the beauty of podcast stumbles is… you can just edit them out!
I learned a lot from my first time recording. I thought I'd prepared what I wanted but once doing it, realised I would prepare differently in future. Mostly, I learned that we're always our own worst critic, and it's only the start of a learning process.
Next we'll be turning our attention to season 3. I'll soon be heading to the archives to hunt for more story gems. Then, creating schedules and booking time in for recording the episodes. Plus, all our fingers are crossed for our PPA Award nomination. So, stay tuned for our special episode and future seasons!