Never Work With Children Or Animals
---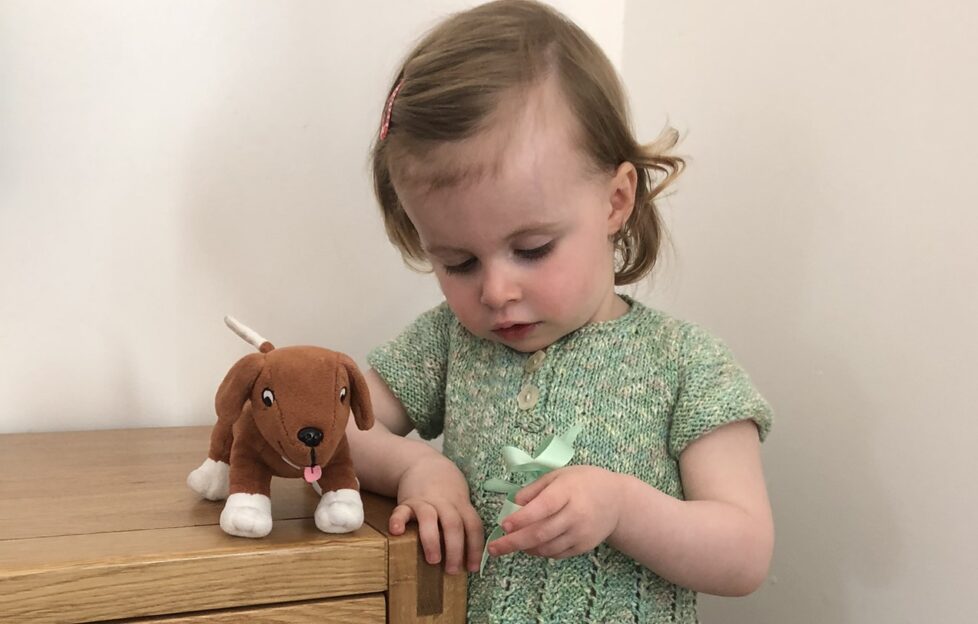 Photograph by Lisa Crow.
They say you should never work with children or animals. I learned that lesson the hard way recently!
In October last year, Knitting Editor Liz asked me if I'd like to have Isla model a little green dress that was going to be featured in an upcoming issue.
It was initally the plan that a professional photographer was going to be doing the photoshoot. However, in the end, we agreed that I would see how I got on taking the photographs myself.
That day, Isla was in good form and (relatively) happy to pose for photographs. Job done. At least so I had hoped — not being a professional photographer, I wasn't sure.
Back To The Drawing Board
Once we got the page to the design stage, Editor Angela asked if it would be possible to try to take more photos.
There are some things that need to be considered when taking photographs for a magazine.
The biggest problem with my original photos were the lack of lighting on Isla's wee face, which looked quite dark. That would only be made worse by the printing process.
Isla was barefoot in the original pictures, as per Liz's suggestion. However, Angela explained that skin tones don't fare terribly well when reproduced on our paper, so for that reason it would be better for Isla to wear a wee pair of socks.
Angela also thought a little bit of detail in the background would help with perspective. So it was back to the drawing board.
Third-Time Lucky
Isla was, again, happy to pose for the photos, though I had the added palaver of having to reweave the dress's decorative ribbon after she pulled it out inquisitively. Cue a lot of wriggling as I tried to fix that!
The "bribe" of a shot on my exercise trampoline proved to be very effective. Unfortunately, the weather wasn't on our side that day. It was too overcast outside and the lighting wasn't great.
It was a case of third-time lucky as I attempted the last photoshoot the next evening.
As you'll see from the photos, Isla wasn't quite as willing to pose this time — no doubt thinking she'd done plenty of that already! Having her favourite toys close by — Digby the dog and Islaphant the elephant — was of little comfort.
There were plenty of tears
While the promise of a shot on the trampoline had been successful on the previous occasion, this time Isla wasn't interested in that.
There were plenty of tears, as my photos show. I was just as pleased as Isla when I thought I finally had a winning photo!
I got her to stand next to my chest of drawers, thinking that would provide some interest and perspective but poor wee Isla was "retreating" into the corner and away from the camera.
Then, I finally found the winning distraction — the ribbon. While she was busy concentrating on that, I took the picture that we ended up printing in the magazine. It was definitely worth persevering and trying to get a new photo.
Isla loves stickers and I think she more than earned the stickers I gave her that night. As for her modelling career, I think that's on pause indefinitely!
---
Click here for more from the "Friend" team.