Features Sneak Peek: July 9, 2022 Issue
---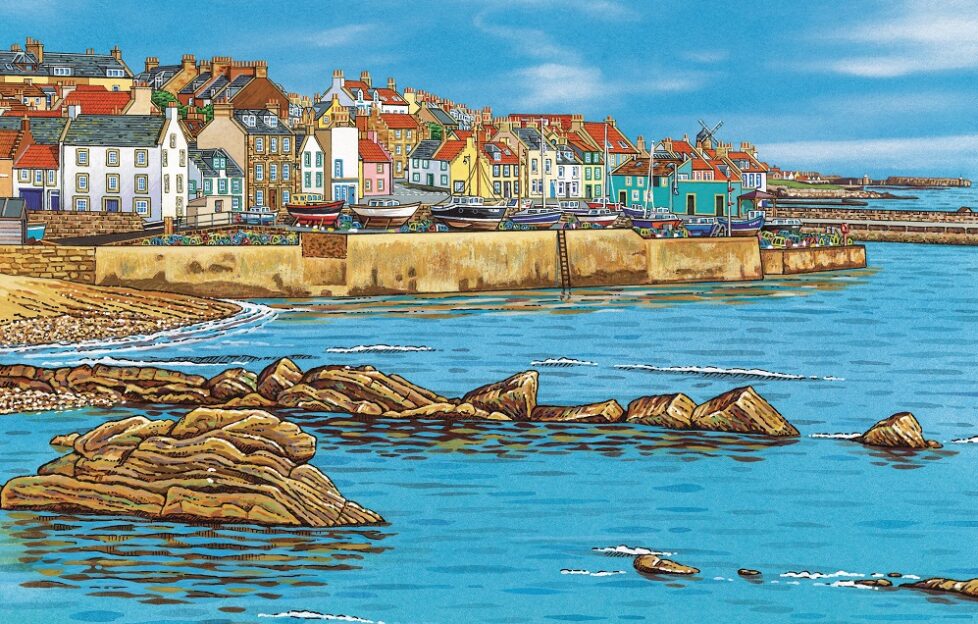 Illustration by DC Thomson Ltd.
Willie Shand explores the beautiful Kingdom of Fife, in the July 9, 2022 issue of "The People's Friend".
Join Willie as he joins the trail at North Queensferry in the shadow of the three Forth Bridges.
Above the former ferry pier at North Queensferry is a rare old lighthouse with oil lamp, harking back to a time when the light was given by a living flame. All around this trip we will find links with times long gone by.
The first of many such points of interest is St Fillan's Church, which has been welcoming folk for more than 800 years…
Mike's Million
A couple who wanted to give something after their daughter's cancer treatment are close to having a million reasons to toast success.
After a remarkable effort spanning four decades, Michael and Bridget Locke expect to hit their astonishing £1 million fundraising target this year.
Their fundraising started with a coffee morning but soon grew to include sponsored walks, cake sales and much more.
Mike had devoted himself to fundraising when he retired and decided to try to boost the coffers with some marmalade making.
Bill Gibb finds out more in the magazine.
Haircuts For The Homeless
Back in 2015, Joshua Coombes stepped out of the London hairdressing salon where he worked and stopped for a chat with a homeless man. That chat led to Joshua giving the man a haircut.
Within a few weeks, Joshua had cut a few of his new friend's acquaintances' hair, too. Joshua began posting images of his haircuts on social media, telling the stories of the people he met.
He believes in the philosophy of doing something for nothing and was soon inspiring vets to treat the dogs of the homeless and yoga teachers gave free classes.
Joshua has published his first book, "Do Something For Nothing: Seeing Through The  Surface Of Homelessness Through The Simple Act Of A Haircut".
Ali Henderson spoke to Joshua to find out more.
The History Of The Car Radio
In the early days of motoring, a trundle around in the car was a rather less tuneful affair than it is now.
Drivers at the beginning of the 20th century were yet to discover the thrill of hitting the open road just as their favourite song started to play, and they didn't know the wonders of on-the-go headlines, travel reports and weather forecasts.
Bar an a cappella sing-song or a whistling passenger, journeys were devoid of melody.
But all that changed a century ago, when the first futuristic car radio came along, filling the automotive airwaves with news, music and sermons.
Laura Brown rolls down the windows and turns up the volume as she explores the history of the car radio.
Elsewhere in the July 9, 2022 issue, we have a collection of delicious seasonal recipes! Plus we have a crochet pattern to make a stripy waistcoat.
We hope you enjoy it. Let us know what you think.
---
Has this sneak peek at our July 9, 2022 issue encouraged you to subscribe to the "Friend"? Click here. If you do, your "Friend" will come straight to your doorstep! 
You can also take out a digital subscription, meaning your issue will come straight to your computer, tablet or phone! And it's great value for money. Click here for a sneak peek at that!