Willie's View: To MacDuff's Castle
---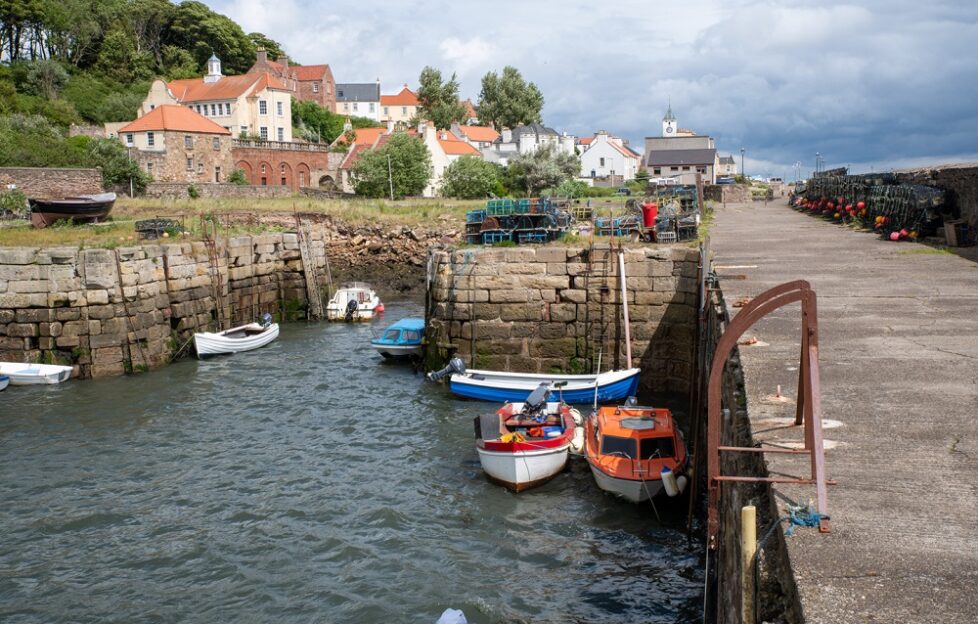 West Wemyss Harbour. Photo by Willie Shand.
Willie nips out after the rain for a visit to MacDuff's Castle in Fife.
---
Having rained heavily all morning I thought I'd make the most of the promised few hours of afternoon sunshine. So I headed out for a walk not too far from home. One of the beauties of the long-distance Fife Coastal Path is that it can be joined at any point. You can take on a walk as long or as short as you like.
By 2.00pm the weather was indeed starting to show signs of improvement. Thank goodness, as I was already lacing up my boots down by the harbour in West Wemyss. The aim was to walk to the neighbouring village of East Wemyss; visit the Wemyss Caves then continue on to the ruins of MacDuff's ancient castle.
From The Age Of Coal
This was once a great coal mining area with the local Michael Colliery the largest colliery in Scotland. The villages of West and East Wemyss and Coaltown of Wemyss were built as model villages. Local landowners, the Wemyss family of Wemyss Castle, established them to house their miners.
When one young East Wemyss born lad started down the pits at the age of 14, little might he have foreseen the future of stardom that lay ahead! Eventually he would record more albums than the Beatles and Elvis Presley combined. It was, of course, the late Sir Jimmy Shand.
The name Wemyss comes from the Gaelic 'uamh' for cave. Immediately beyond East Wemyss we meet a few of these famous sea-carved caves with their Bronze Age carvings. When they were formed, many thousands of years ago, sea levels were considerably higher than they are today. Our path continues on the 'raised beach' of these ancient seas.  Perhaps, the way things are going, it won't be too long before these caves are filled again with salt water…
Worn By The Weather
The ruins of MacDuff's cliff-top castle may be safe enough from rising sea levels but its red sandstone walls are deeply pitted by the wind and rain. When Macbeth killed MacDuff's wife, family tradition has it MacDuff escaped by a tunnel. It was supposedly linked to the Well Cave far below. Then he crossed the Forth by boat to safety from Earlsferry.  Macbeth, however, was soon the one being chased, eventually meeting his just deserves at Lumphanan in Aberdeenshire.
---
Features Ed note: just in case anyone is wondering, our Willie Shand is no relation to the late Sir Jimmy Shand! 
Read more of Willie's travels out and about.