Fiction Preview: Special 230
---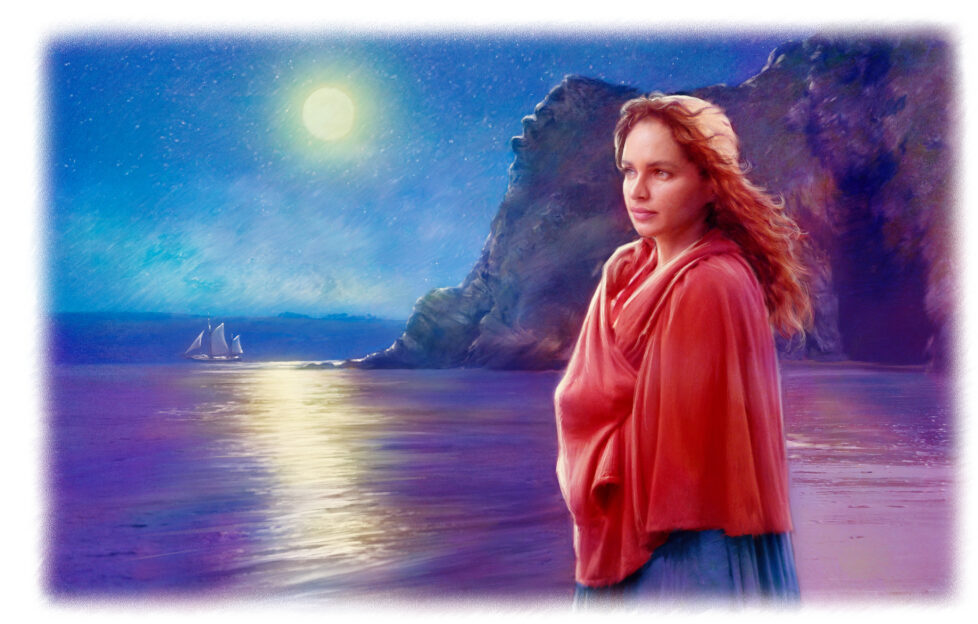 Artwork: David Young
Let's look at the fiction you'll find in our latest Special – on sale Wednesday, August 17.
Twenty Brand-New Stories
Our opening story is Kitty-Lydia Dye's "Carried On The Wind". We're in 1816, and smuggling is a risky business, not least now there's a storm gathering…with an atmospheric illustration (above) by David Young.
In Pauline Bradbury's "Lend A Hand", Bea's husband has told her he 'needs space'. But she has a plan to make him see sense!
Single mum, Karen is on holiday with her sons in Cornwall. But with money too tight to mention, can they appreciate their time together? "A Port In The Storm" is written by Sandy Salisbury.
In Eirin Thompson's Out On The Town", it's 1960, and two young girls take an unscheduled day off school to go and see Elvis in 'GI Blues'. But there's only one seat left!
In "Plain Sailing", by Christine Bryant, little Fred Bunting teams up with boating enthusiast, Gerald, to enter a model boat in the summer gala. What could go wrong? Artwork by Martin Baines.
Super Summer Reading
Getting a bag of clothes together for the charity shop prompts memories of university days, in "Dress The Part", by Louise McIvor. With artwork by Andre Leonard.
Little live wire, Lottie, informs her grandad that she's getting married – but she's only six! "Come To My Wedding", by Teresa Ashby, has a Kirk Houston illustration.
Sonia's son is growing up, but he'll always be her baby. "Train Of Thought", is by Marie Penman.
We're in 1926 for our next story, "Going For Broke". Daisy loves a flutter, but then the stakes turn to love…by Alison Carter, artwork is by Pat Gregory.
In "Built To Last", Lizzie wishes Jack would see her as more than 'just a girl'. Kate Hogan's story set in the 1950s is illustrated by Ged Fay.
We Welcome A Debut Author
Outstanding student, Giada, wants to excel at everything, in "It's Got To Be Perfect", by Stefania Hartley.
Sophia and her husband live separate lives. But it's 1935 – can Sophia find the courage to divorce him? "Brief Encounter", by Alison Carter, is illustrated by Mandy Dixon.
When Rachel inherits a tumbledown cottage from a much-loved aunt, her partner can't wait to sell it. But Rachel isn't so sure. "Branching Out" is by Margaret Skipworth.
In H. Johnson-Mack's "On The Same Page", there's one library customer that Anna would like to find out more about – he's certainly no 'open book'!
We have a debut author, next – a warm welcome to Matt MacBride! Ramon loves Isobel – but will she take any notice of a lowly goatherd? Set in the 1970s, "The Lonely Goatherd" features artwork by Sailesh Thakrar.
So Much Reading To Enjoy
When all the comments in a visitors' book are about noise from next door, Ursula hopes the neighbours can "Keep It Quiet" and save the holiday! Written by Susan Wright.
In Eirin Thompson's "Back To School", Cleo is NOT looking forward to the new term. Her new teacher is nicknamed 'The Dragon' – but there's more to her than meets the eye. Artwork by Sarah Holliday.
Beth is focused on winning a photography competition, in "Eyes On The Prize", by Katie Ashmore. Artwork by Sarah Holliday.
A trip back in time may lead to somewhere special, in Christine Sutton's "To The Future"…
…and in our final story of this Special, we go back to 1903, where two keen lady motorists are "Driven To Succeed". Written by Alison Carter.