Yummy Haggis Samosas Recipe For Burns Night
---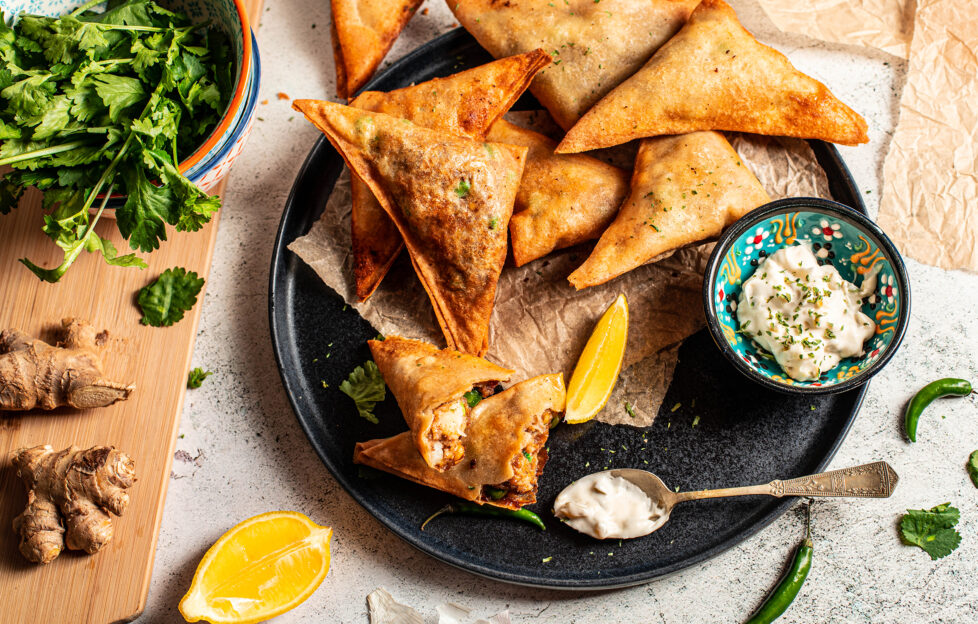 Ingredients
1 tbs veg or rapeseed oil
1 white onion, diced
2 cloves garlic, chopped finely
2 medium potatoes, peeled and chopped roughly
½  x 454 g Simon Howie Veggie Haggis or Original Haggis
Small bunch fresh coriander, chopped
2 handfuls frozen peas
½ lemon, juice only
Salt and freshly ground black pepper, to taste
½ tsp chilli powder
½ tsp garam masala
½ tsp cumin
¼ tsp ground coriander
16 samosa or spring roll wrappers (can be subbed for filo pastry)
1 egg (for wash)
1 litre (1¾ pint) vegetable oil (for frying)
To Serve: dipping sauce of choice.
Recipe and image courtesy of Simon Howie | The Scottish Butcher.
These Haggis Samosas recipe from The Scottish Butcher is ideal as an alternative for Burns Night and beyond for a starter so good, you won't want to share!
Makes: 16 samosas
Prep: 30 mins
Cook: 35 mins
Serves: 4
Heat the veg or rapeseed oil gently in a frying-pan. Add the onion and garlic and fry for 5 to 10 minutes on a medium to low heat until soft.
Meanwhile, boil the potatoes until just cooked through. Leave all cooked ingredients in a large bowl to cool. Once cooled, crumble potatoes with your hands into small pieces, but not mashed. Crumble in the haggis and add the chopped coriander, frozen peas, lemon juice, spices and salt and pepper to taste, mixing well.
Brush the samosa wrapper with beaten egg and fold diagonally, twice, to make a triangle shape with a pocket. Fill the pocket with the mixture, leaving a slight gap at the top to seal. With the beaten egg, use your fingers to completely seal along the open edge of the samosa.
In a deep frying-pan, over a medium heat, heat 1 litre (1¾ pint) of vegetable oil (to approx. 180 deg. C.). Fry the samosas in batches of 4 (or so that they are not overlapping in the pot) for 5 to 7 mins, flipping over halfway, until they are golden and cooked through.
Take out and place on kitchen roll to drain off the excess oil. Serve immediately while hot with your favourite dipping sauce!
Send in yours!
If you try the haggis samosas recipe, "The People's Friend" team would love to see your creations. You can send them to peoplesfriend@dcthomson.co.uk for a chance to be shared on social media or in the magazine!
Get the issue!
You'll find more Burns Night recipes in this week's issue of the "Friend". Available online or from most major supermarkets and newsagents. Or, to make sure you never miss our delicious recipes, you can subscribe to get every issue delivered straight to your door each week.
Check out our Cookery section for more recipes.