Win: Bumper Bundle Of Annuals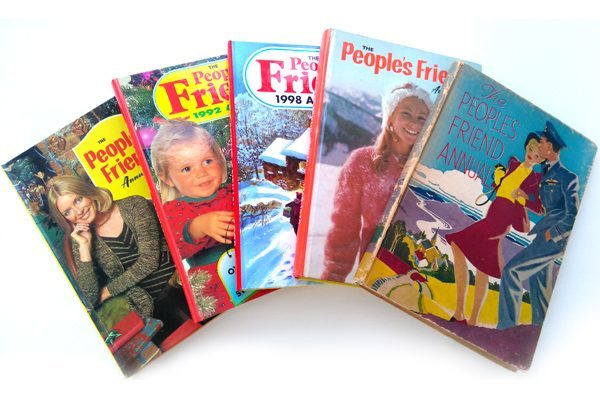 Every now and then we love to offer our readers a special prize that money simply cannot buy, and the latest one we're running is the chance to win a bundle of five annuals from yesteryear.
Our wonderful guys in the Archives Department came across a treasure trove of "The People's Friend" annuals, some dating as far back as the 1940s. You'll love to delve into the short stories and look at the ads that summed up the era. Does anyone remember Oxydol Lather which promised to make clothes dazzling white or Creamola Pudding? The latter didn't require any eggs and less sugar (important during the rationing years).
Our annuals run through the decades to more modern times, and a bundle of five could be yours. We have five sets to be won.
The prize…
Five bundles each containing five annuals. The bundles will vary from the image shown.
How to enter…
Answer the following question:

"The People's Friend" magazine is famous for what?

Add your answer into the form below, along with your contact information and click "Send".

Please visit our website for our full competition Ts&Cs: www.thepeoplesfriend.co.uk/competition-terms or send a large stamped self-addressed envelope to The People's Friend Marketing, Copy of your Competition Terms, DC Thomson, 2 Albert Square, Dundee DD1 9QJ.