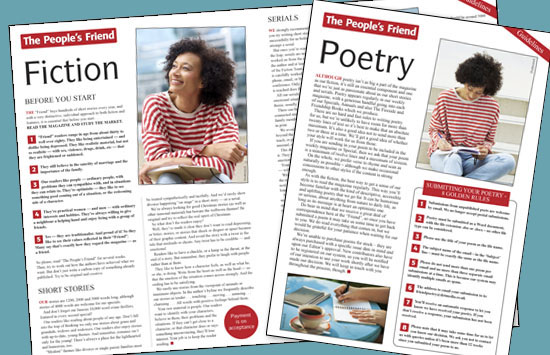 We're always happy to consider contributions from new authors.
If you're thinking about writing a story, poem or pocket novel for "The People's Friend", the most important advice to follow is STUDY THE MARKET.
Firstly, have a good look at our writers' guidelines. We produce a range of tip sheets on writing short stories, features and poems for our market, so decide what you want to write and then obtain the relevant guidelines.
Secondly, read the magazine for several weeks to get a feel for our very distinctive style.
This will greatly improve your chances of success. And please don't fall into the trap of thinking that your piece of work is so good it will break the mould – it won't!
Our guidelines are very specific about our requirements because we know exactly what our readers do – and don't – like.
Features
If you're interested in submitting a feature, please don't send anything to us through the post. Instead, contact us by email – with an outline of your idea – at peoplesfriend@dctmedia.co.uk and mark your email for the attention of the Features Editor.
Download guidelines: