Braised Beef in Irish Stout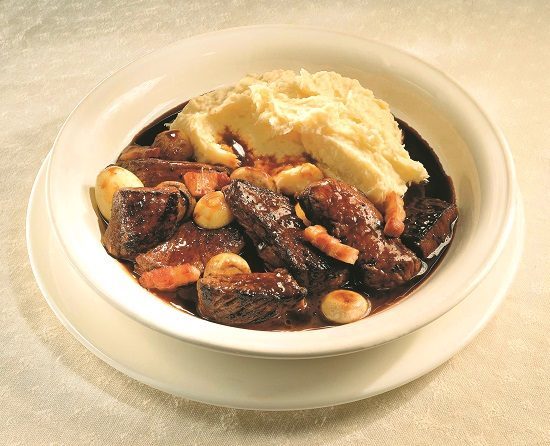 Method:
Heat the oil in a large frying-pan and brown the meat well. Remove to a saucepan.
Sauté half the onion in the frying-pan with the leeks, carrots and celery. Add to the meat along with the garlic. Pour in the stock and stout, then season. Simmer gently for approximately 1½ hours. Remove the meat from the pot. Strain the liquid into a clean saucepan. Discard the vegetables.
Place the meat into the saucepan containing the strained cooking liquid.
In a frying-pan, heat 25 g (1 oz) of the butter and sauté the bacon, mushrooms and remaining onions. Add the mixture to the meat in the saucepan and reheat.
Blend the flour with remaining butter. Add it into the sauce, stirring well for a few minutes to blend. Check seasoning, then serve in a deep dish with buttery mashed potatoes.