Chocolate & Pistachio Berry Pavlova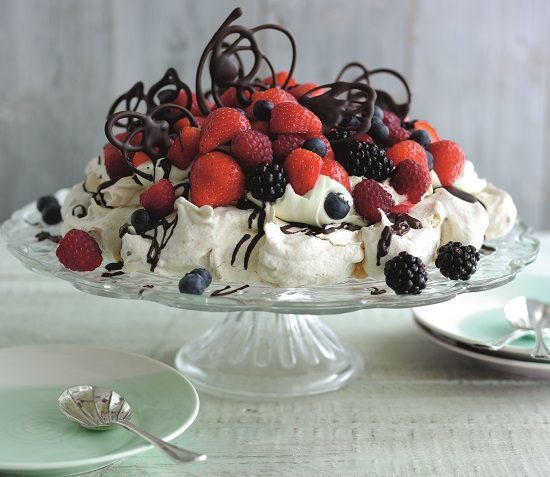 Method:
Pre-heat the oven to 140 deg. C., 275 deg. F., Gas Mark 1. Line a baking sheet with non-stick baking paper and draw a 23 cm (9 in) circle on to it.
Whisk the egg whites with an electric mixer until they form stiff moist looking peaks.
Gradually whisk in the sugar a teaspoonful at a time and continue whisking. Once all the sugar has been added, whisk for a few more minutes until the meringue is very thick and glossy. If you are unsure if the egg whites are whisked enough for the meringue, try turning the bowl upside down; if they are ready they won't move, if they're not, they will slide out of the bowl!
Gently fold in the pistachio nuts.
Spoon the meringue inside the marked circle on the paper lined baking sheet and spread into soft swirls. Bake for about 1¼ hours until crisp on the outside and just firm enough that the paper may be peeled away from the underside of the pavlova.
Leave the pavlova to cool completely, still on the paper, on a wire rack. Loosely wrap in nonstick baking paper until ready to serve.
To make the topping, melt the chocolate in a bowl set over a saucepan of barely simmering water. Lift the pavlova off the paper on to a serving plate then drizzle the chocolate over the top, saving a little of the chocolate to drizzle squiggles on to a baking sheet lined with more non-stick baking paper for decoration. Chill for 30 minutes or so until the chocolate is firm.
Whip the cream until it forms soft swirls then spoon over the chocolate topped pavlova. Scatter the berries on top, peel the chocolate decorations off the paper and tuck in between the berries then serve.