Chorizo, Roasted Vegetable and Cherry Tomato Lasagne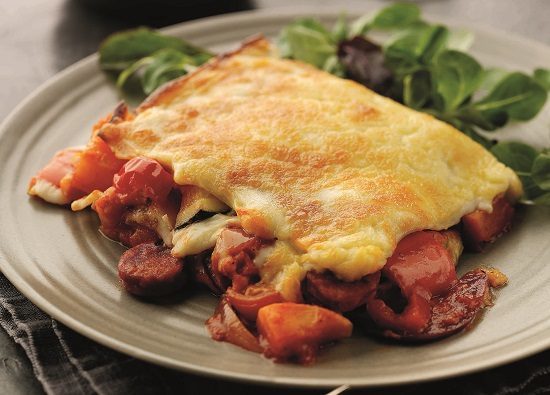 Method:
Pre-heat the oven to 200 deg. C., 400 deg. F., Gas Mark 6.
Put the onion, pepper, courgette and butternut squash into a large roasting tin and add the olive oil. Season and toss to coat. Roast for 15 minutes in the pre-heated oven, then add the chorizo. Roast for 10 more minutes, until the vegetables are tender.
Add the cherry tomatoes and pasta sauce to the roasted vegetables. Transfer half the mixture into a large rectangular baking dish, measuring about 25 x 20 cm (10 x 8 in). Arrange 3 lasagne sheets on top of the mixture. Repeat the layers.
To make the cheese sauce, put the milk, butter and flour into a non-stick saucepan. Heat, stirring constantly with a small whisk, until the sauce boils and thickens. Add two-thirds of the cheese, stirring until melted.
Pour the sauce evenly over the top of the lasagne and sprinkle the remaining cheese on top. Bake in the oven for 30 to 35 minutes, until golden brown.