Goats' Cheese and Roasted Veg Portobello Mushrooms
Cooking Time:

45 minutes

Serves:

4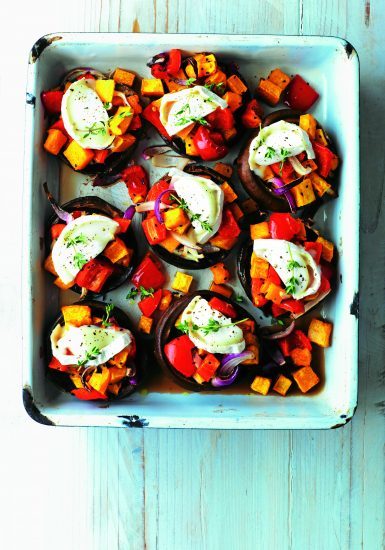 Method:
Pre-heat the oven to 200 deg C., 400 deg. F., Gas Mark 6.
Pour the oil into a roasting tin and add the butternut squash, tossing to coat. Roast for 10 minutes, then add the onion, pepper and black onion seeds. Roast for a further 15 to 20 minutes, or until the vegetables are tender.
Arrange the mushrooms, gills facing up, in a roasting tin (you can use the same one – just tip the cooked vegetables into a bowl). Pile the vegetables into the mushrooms and season with black pepper. Return to oven and bake for 8 to 10 minutes.
Place the goats' cheese slices on top of the mushrooms and return to the oven for 3 to 5 minutes, so that the cheese starts to melt. Serve, sprinkled with extra black pepper and garnished with thyme sprigs.
Editor's pick: best recipe of the week!