An Indian Recipe from WWI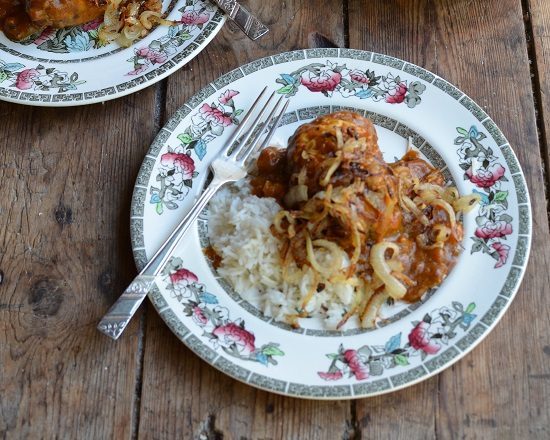 Method:
Mix the flour, salt and curry powder together in a large bowl and add the chicken pieces, mixing well with your hands to ensure that every piece is coated thoroughly.
Heat a generous knob of butter in a large saucepan until melted then add the onion and fry until translucent.
Add the coated chicken pieces to the saucepan and fry until nicely browned all over.
Add the stock and bring to the boil then turn down the heat, cover and allow to simmer gently until the sauce is reduced by half, about 45 minutes.
Meanwhile, cook the rice according to packet instructions.
When nearly ready to serve, add a knob of butter to a frying-pan and fry the Spanish onions until lightly caramelised.
Serve the curry with the rice and a sprinkling of fried onions.