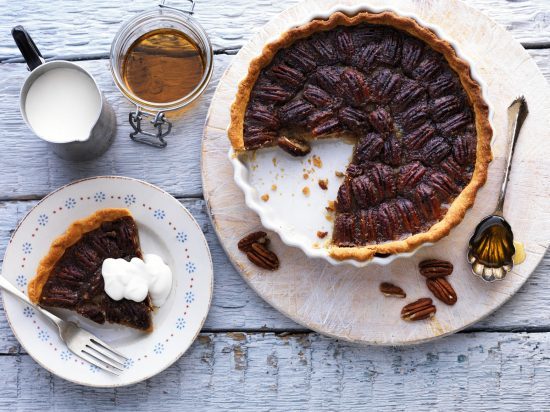 Method:
Pre-heat the oven to 180 deg. C., 350 deg. F., Gas Mark 4.
Place the butter, golden syrup, vanilla extract and sugar into a heavy-based saucepan over a low heat. When the butter has melted, remove the pan from the heat and leave to cool for 5 to 10 minutes.
Add the beaten eggs to the mixture in the pan and stir well.
Arrange the pecan halves evenly in the pastry case and carefully pour the syrup mixture over.
Place into the preheated oven and bake for 40 to 50 minutes – the pie will be golden-brown, but the filling should still be slightly soft.
Leave the pie to cool on a wire tray. Serve with a good dollop of whipped cream.