Pork and Fennel with Red Wine and Borlotti Beans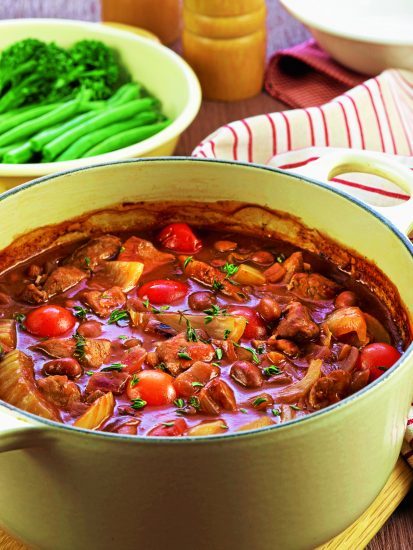 Method:
Pre-heat oven to fan 180 deg. C., 350 deg. F., Gas Mark 4.
Heat one tablespoon of the oil in a large flameproof casserole dish. Fry the pork in batches, browning well, and set aside.
Add the remaining oil and fry the onion. When just beginning to brown, add the garlic and fennel. Add the meat and any juices back into the dish, sprinkle over the flour and stir well.
Gradually add the wine, stock and tomatoes, season well and add the thyme sprigs.
Cover, cook in the oven for one hour, then add the borlotti beans and return to the oven for a further 15 to 20 minutes or until the meat is tender. Remove the thyme sprigs and replace with fresh to garnish.
For more recipes, visit our recipe page!