Salmon and Butter Bean Bake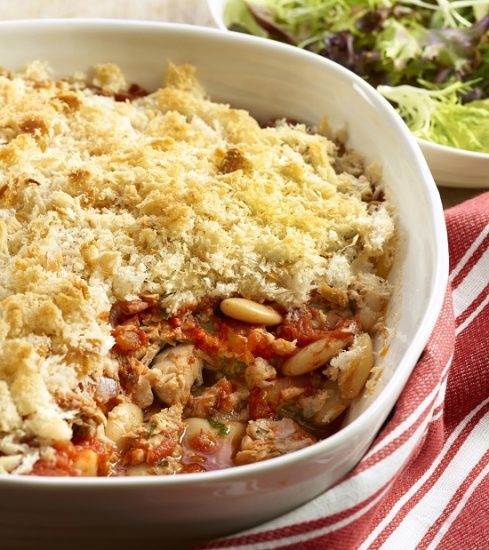 Method:
Pre-heat the oven to 190 deg. C., 375 deg. F., Gas Mark 5.
Heat a large sauté pan until medium hot, add the olive oil and onion and sweat for 5 minutes until just softened then add the garlic and cook for another 2 minutes.
Add the canned tomatoes and bring to a simmer, then reduce the heat and cook for 10 minutes until thickened. Season to taste then remove from the heat.
Meanwhile, place the salmon into a bowl and crush lightly with the back of a fork until well mixed then add the chopped tarragon and add seasoning.
Layer a third of the tomato sauce into a medium ovenproof dish then top with half the butter beans, half the salmon, then repeat with another third of tomato sauce, then remaining beans, salmon and last of the tomato sauce. Top with the brioche breadcrumbs and place in the oven for 20 to 30 minutes until golden and bubbling.
Serve with a crisp green salad.