Smoky Vegetarian Bean Hot Pot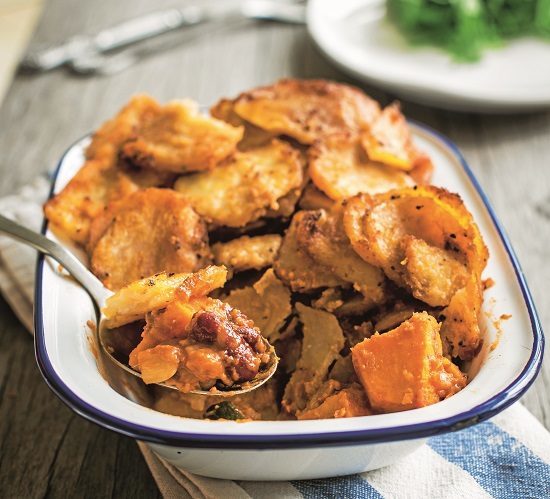 Method:
Pre-heat the oven to 220 deg. C., 425 deg. F., Gas Mark 7.
Heat the oil in a large non-stick saucepan or deep frying-pan. Gently fry the onions for 5 minutes, stirring often, until softened and lightly browned. Add the garlic, cumin and paprika and cook whilst stirring for 1 minute.
Pour the tomatoes into the pan, refill the can with water and add the water to the pan. Stir in the tomato purée, then add the bay leaves and sweet potato. Bring to the boil, cover and cook for 15 minutes.
Stir in the pulses and courgette and bring the mixture back to a simmer for 2 minutes. Season to taste.
Pour the mixture into an ovenproof dish and top with layers of the Southern Fried potatoes ensuring that all is completely covered.
Bake in the pre-heated oven for about 40 minutes until the potatoes are browned and the filling is bubbling.