Sticky Chocolate and Redcurrant Slice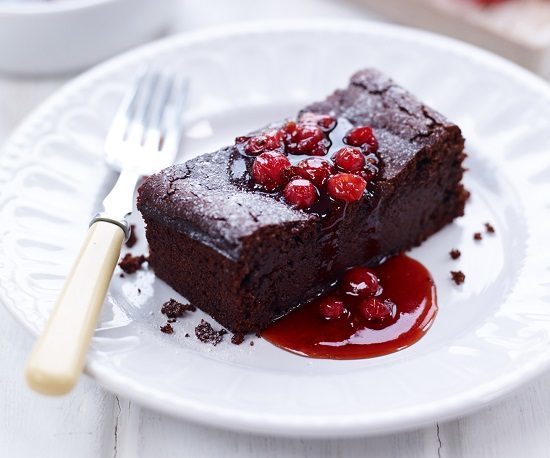 Method:
Pre-heat the oven to 180 deg. C., 350 deg. F., Gas Mark 4. Line a 500 g (1 lb) loaf tin with greaseproof paper and grease lightly.
Melt the chocolate with the butter in a small pan or in a microwave on high in 30-second bursts. When quite smooth, remove from the heat to cool slightly.
Set aside about 50 g (1¾ oz) nice berries for serving. Cook the rest of the fruit with 2 tablespoons of the brown sugar until soft and then pass through a sieve.
Whisk the caster sugar and egg yolks together until light and pale, then gently mix in the ground almonds, cocoa, flour, melted chocolate mixture and sieved fruit. Whisk the egg whites and fold in at the last moment.
Spoon into the tin and bake for 30 to 35 minutes, or until risen and just firm to the touch. Cool in the tin for 2 hours or overnight, then turn out on to a serving plate and peel away the lining paper.
Cook the remaining berries with the remaining tablespoon of brown sugar and the redcurrant jelly until the fruit begins to soften. Sprinkle the cake with grated chocolate, if using, and serve sliced with the extra berries, sauce and thick cream, if liked.