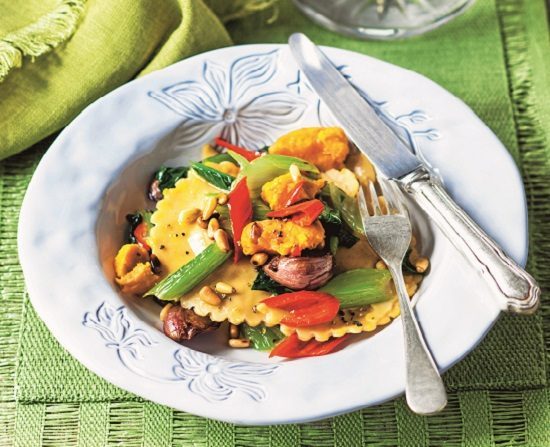 Method:
Make the filling by crushing 200 g (7 oz) of the baked sweet potato in a bowl with a fork and mix with the goats' cheese, thyme and nutmeg. Adjust the seasoning and keep cold.
Make the pasta by putting the flour on a work surface and creating a well in the centre. Break the eggs into the well and mix together. Carry on kneading until the pasta feels like play dough.
Roll the pasta in small quantities with a rolling pin until you reach the thickness you desire and cut out circles with a 9 cm (3½ in) diameter cutter.
Place a teaspoon of the filling in the centre of the pasta. Fold over the other side of the pasta to create a half moon and press around the edges to seal the parcels. Place on a tray sprinkled with a little of the flour, ready to cook later.
To make the sauce, cook the rapeseed oil, garlic and chillies in a hot sauté pan for a couple of minutes or until light golden. Add the white part of the choi-sum, cover the pan and leave to wilt for 2 minutes. Add the sweet potato chunks and green part of the choi-sum, cover and remove from the heat.
In the meantime, cook the ravioli in a large pan of gently boiling salted water for approximately 3 to 5 minutes, depending on the thickness of your pasta.
When the ravioli is cooked, drain and toss into the sauce with the olive oil. If the sauce is too dry add a couple of spoonfuls of the water used to cook the ravioli. Sprinkle with the pine nuts and serve.