11 Ladysmile Lane – Episode 17
---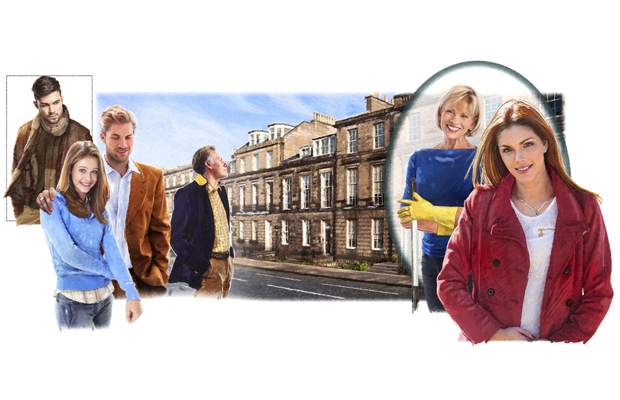 Illustrated by Mandy Dixon.
Driving to her grandad's that evening, she reflected that, yes, some of them could be a bit difficult, like he'd said. But there was no doubt they were good sorts.
Of course, they'd come into her grandad's life at a bad time. It now occurred to her that it was just after her gran had died that he'd got the idea of letting out Number 11 as offices. Maybe that accounted for his impatience with them, for normally he was not an impatient man.
Dusk was starting to fall as she brought her car to a halt at the bottom of the quiet lane where his bungalow was. As she rang the doorbell, she thought, as she always did when she visited, what a lovely location it was – in the town, but with a country feel to it.
When there was no reply to her first ring, she pressed the bell again. Still nothing.
Taking care not to trample on Grandad's plants, she went round in search of a window to look through. All those at the front had the blinds pulled down. And those at the back, too, as it turned out.
She knocked on the living-room window and called out, but still there was nothing.
Where was he? Since her gran had died he rarely went out of an evening, unless it was to a family do.
Back at the front door, she crouched down to try to see through the letter-box.
"What you doing down there, Georgie, girl?"
Nearly jumping out of her skin, for there had been no-one near moments ago, Georgia turned to see her grandad grinning down at her.
"Where have you sprung from?"
"Rosa's car."
"Who's Rosa?"
"Rosalyn. She gave me a lift home."
He pointed to a little blue Citroën car that a pleasant-looking woman of about the same age as him was turning to drive back up the lane.
"See you next week," he called after her, in response to her cheery wave.
"Been dancing," he explained to Georgia when they were inside and he was making them some tea.
Immaculate in a perfectly fitting suit, he looked the part, Georgia reflected. But then her grandad always did look smart. He had, after all, for years run the town's top tailoring business from Ladysmile Lane.
"Ballroom," he elaborated. "In that hall on George Street. I saw an advert and just fancied it. Tonight was my first night, but I enjoyed it so I'm thinking I'll be going back. Now, are you here for something in particular or just passing by?"
"Er…" Georgia hesitated. Her grandad looked happier than he had for some while. She didn't want to bother him with Number 11's problems.
On the other hand, she was fairly sure he knew that she had come for "something in particular". You couldn't hide anything from Grandad! So she told him about the insurance mess-up.
She'd barely finished before he was on the phone to his old friend, Tom, one of the founding partners of the agency.
Then Tom spoke to Georgia.
"We had someone working for us who, it turned out, just didn't care about the job. He's left our employ now and we're in the process of sorting out the properties he mismanaged, one of which, I'm afraid, seems to have been yours. But please be assured, Georgia, that you, along with the other clients who have been let down, will be fully compensated."
Darkness had fully fallen by the time Georgia finally left. She and her grandad always had a good natter!
"I'm pleased about you going dancing," she said as he walked her to her car.
He didn't reply right away, then spoke.
"You move on, if you understand me, Georgie."
She nodded, aware that he was talking about her as much as about himself. And it was true she'd stopped hoping that it would be Russ, wanting them to start again, every time her phone rang or a text or e-mail arrived.
But even if that meant she was starting to get over her cheating, two-timing ex, that wasn't the same as saying she was moving on from the memories.