11 Ladysmile Lane – Episode 22
---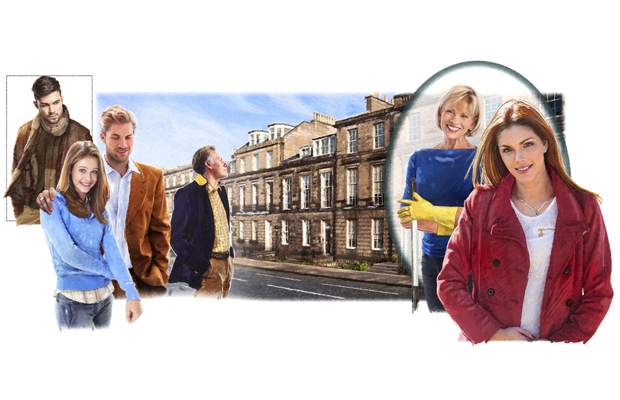 Illustrated by Mandy Dixon.
Seated in her little office at the back of her brother-in-law's garage, Mel gratefully kicked off her shoes.
"That's better," she said, though no-one could hear her unless it was her sister's husband, Des, out in the workshop.
They were especially busy at the moment and she'd been out along with her growing number of employees, vacuuming and polishing more than was usual for her.
But this afternoon was one of those regularly highlighted in her diary to stay put behind her desk and phone her various clients to make sure all was well and they were happy with the service her firm was supplying.
Customer feedback, she reckoned, was very important. She really listened to the comments made, and the big thing that had struck her today was how well her new employee, Ewan, appeared to be doing.
Despite denying the possibility to her sister, she had secretly worried that she'd been swayed by his strong physical resemblance to their brother, Michael. That she'd taken him on for sentimental rather than sound business reasons.
It seemed she needn't have worried. From the praise heaped on him it was apparent he was proving to be a very useful addition to her team. Georgia, too, said he was doing a great job with the groundwork for Number 11's garden.
Nodding contentedly to herself, Mel dialled the number of what she intended to be the last call of the day.
Alan Brown had been one of her first clients when she'd started up, so she'd known him a good while now and got on well with him. Ewan had been at Alan's offices that morning, so Mel was confident of a pleasant conversation before she packed up and went home.
She was in for a shock.
"At last!" Alan greeted her when his receptionist had connected them. "I've been trying for ages to get through to you but you were always engaged."
"Sorry. This is my busy afternoon. But, if you can't get me on this number, there's always my mobile. You have that number, too, haven't you?"
As she spoke, she glanced at her mobile phone on the corner of her desk. There were several missed calls. Not from Alan, though. It was Sandra and Ewan who'd been trying to call her.
"I have it," Alan spoke again, "but what good would it do? You're not going to answer your mobile if you're busy on your landline!"
Mel frowned. What was wrong with Alan? Normally they chatted almost like old friends. Today he sounded different; sharp and bad-tempered.
"What can I do for you, anyway?" she asked, trying to put a smile into her voice.
"I thought it might have been him you were talking to," Alan said.
"Him?"
"What's he called – Evan? Ewan?"
"Oh, yes, Ewan, our new boy. I presume he did a good job for you this morning."
She broke off, hearing an incredulous intake of breath at the other end of the phone line.
"How long has he worked for you?"
"Not long. This is his second week, but –"
"Did you get references for him?"
"Of course, including a glowing one from his last job. He was made redundant – the firm lost a big contract. But, look, Alan, why are you asking me this?"
"He hasn't told you yet, then."
"Told me what?"