11 Ladysmile Lane – Episode 35
---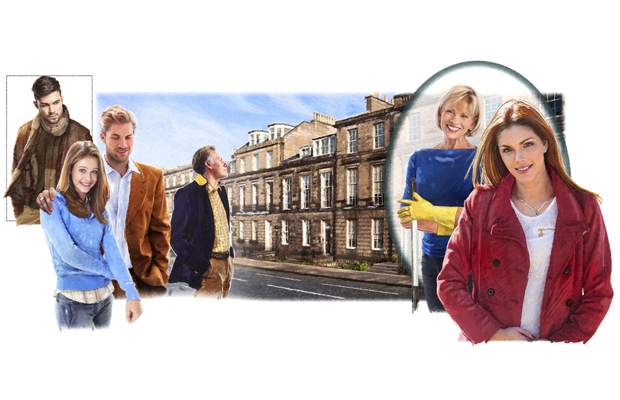 Illustrated by Mandy Dixon.
"I thought," Georgia said as she led her grandad towards her office, "that you were never going to set foot in here again? That you'd washed your hands of it completely!"
She saw he wasn't listening. This room was the big one where he'd had the huge table on which, for many years, he'd cut the cloth for the suits he made.
She left him alone with his memories until he eventually spoke.
"I'm going to collect a lady friend to take her to that new tea room that's opened," he said at last.
"Rosalyn, the one who gave you a lift back from the dancing?"
"No. Barbara. She goes dancing, too. We're all just pals, you understand."
He gave her a look which for a moment made her think he was asking for her approval. Well, he had it, and no doubt her parents', too. They were all thrilled that he was making efforts to improve his social life following her gran's death, for she had always been the outgoing one.
He resumed.
"Barbara lives near here and I was rather early, so I thought I would stop by. A lad with bright orange hair let me in. Nice enough, he seemed, but that hair!"
"He's called Jason, and he is nice. Unfortunately, he's leaving soon."
"Yes, I did notice the Offices To Let sign up outside. Is it only his office becoming vacant?"
"No, there are a couple empty already."
Georgia didn't want to worry her grandad, but she knew from experience that he could read her like a book. So when he asked how her plan to give language lessons was going, there was no point in exaggeration.
"It's getting going, but more slowly than I expected."
"I thought you looked fed up."
She started to protest. But the truth was, she hadn't much enjoyed this week. It was Alex – the situation with him.
After what had happened at Amy's school, there was no doubt his attitude to her had changed. He was still pleasant and polite, but the relaxed familiarity that had built up between them was now no longer there when they met. Which wasn't very often – she increasingly suspected he was avoiding her.
What should she do? She had no idea. She had tried to make it clear to him that she understood the kiss hadn't meant anything to him. But perhaps he was worried that she thought it did.
"OK, maybe I'm just a bit down," she admitted. "Do you remember, when you first passed Number Eleven to me, that I considered turning it into a house? This morning I was wondering if I should have gone ahead with that."
He shook his head.
"Myself, I can't see it as a house, Georgie, not at all."
Georgia smiled.
"No-one's been able to, apart from me."
"I know," her grandad continued, "how demanding it can be, running this place." He paused a moment, listening. "Today, though, all seems quite calm."
"It's been OK lately, I admit," she agreed. "Oh, come and see what I'm having done outside at the back. You'll get a surprise!"
She ushered him through the rear door . . . and got a surprise herself. This was the area that Ewan had completed. He'd cleared and cleaned all the paving, painted sparkling white a nearby wall and planted vivid geraniums, nasturtiums and lobelia, and fragrant rose and lavender, in bright pots.
Today, new to the scene but fitting it perfectly, a table had been laid with a lacy cloth and pretty, vintage-looking china. The plates were piled with little cakes all the colours of the rainbow.
Alex was there, with Amy, who often called in on her way back from school as well as on her way there, and Eloise with Tarot, her dog.
"Jason's birthday," Eloise reminded Georgia, noting her baffled expression.
"And here is the Birthday Boy himself," Alex said, pointing back to the door.
"Is this –?" Jason broke off, looking overwhelmed.
"Yes, for you," Eloise said. "Benjamin did it. Where is he, so we can start?"
"I've just seen him on the stairs. He said he had a phone call to make and he'd catch me later," Jason said.
"Shall we just get started, then?" Amy was already reaching for a tiny pink meringue.
Also on the table was an elegant china teapot, empty, but with a packet of tea beside it.
"Loose-leaf tea, not bags!" Eloise positively whooped as she spooned some into the pot and scuttled off to the kitchen for hot water.