11 Ladysmile Lane – Episode 36
---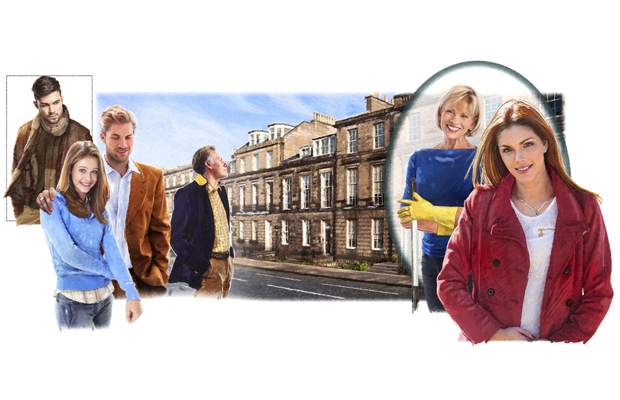 Illustrated by Mandy Dixon.
It was a lovely sunny day and pleasant to be outside, though Alex quickly departed, saying he had things to do. Would he have left so soon if she hadn't been here, Georgia wondered. She doubted it.
However, even if Alex was avoiding her, his changed attitude hadn't affected his daughter. Amy was her usual chatty, friendly self, busy telling Grandad about the extra French tuition Georgia was giving her.
"And she's making a dress for me, too! Four of us who are friends all have our birthdays in the same month and we're organising a big shared party."
Of course Grandad was far more interested in the dress than the lessons, assuring Amy that Georgia would make a brilliant job of it.
"She made some lovely things for herself when she was young."
Georgia smiled but didn't say anything. She felt . . . depleted somehow. Empty. She saw Ewan arrive, saying in reply to Eloise that no, Harrison wasn't with him, but that he wanted to speak to Harrison, so he'd wait for him.
It struck Georgia that Ewan looked mightily pleased with himself. And why not? He was doing wonders with the outside space, as Amy was now enthusiastically telling him.
Benjamin finally appeared, carrying two trays stacked with great chunky slabs of a flapjack-like creation, all nuts and oats and assorted seeds. This was actually much more the type of thing she would have expected Benjamin to provide.
Just as she thought this, Brett came out behind Benjamin and let out a piercing yell. They all stared and stopped eating as Brett explained that, due to his keen interest in food, he had been commissioned to do a photograph for an advertising leaflet for the new tea room – the same one that Grandad was going to.
So this was the reason for the tea table, cakes and vintage china!
"An hour, I spent, setting all this up for my photo!" Brett shrieked. "I leave it for just a few minutes and it's ruined!" He pointed at some fruit-topped mini-cheesecakes.
"If anyone's had one of them, they should be aware the colour isn't all from the blackcurrants. I added ink."
"You added what? You could have poisoned us!" Eloise was now shrieking, too, with Tarot barking an accompaniment.
Brett defended his position, pointing out they were never intended to be eaten and that they had had no right taking them.
"I'm off," Georgia's grandad said to her as Benjamin joined the fray.
She accompanied Grandad to the door, where he smiled.
"I've changed my mind about what I said earlier, Georgie, about it being 'quite calm' today. It's just the same as I remember it!"
But he was laughing, which gladdened Georgia's heart. Like them all, he'd been devastated by her gran's death. Maybe he was now starting to move on, which she knew was what her gran would have wanted.
Waving him off, she went back to the tea party, if it could still be called that, to see if she could smooth things over – a skill at which she reckoned she was becoming quite accomplished!
But all was now quiet, with only Eloise and Jason still outside, both peering into a teacup.
"Reading his tea leaves," Amy whispered, as she made her way back indoors. She grinned. "I hope he pays no attention to it. Remember I told you about the horoscope she did for me?"
"Yes, I do. All sorts of marvellous things were supposed to happen, but didn't Josh . . ."
". . . Josh is history, Georgia. I keep telling you that," Amy interrupted, with an enigmatic smile. "There's someone else I like now!"