11 Ladysmile Lane – Episode 39
---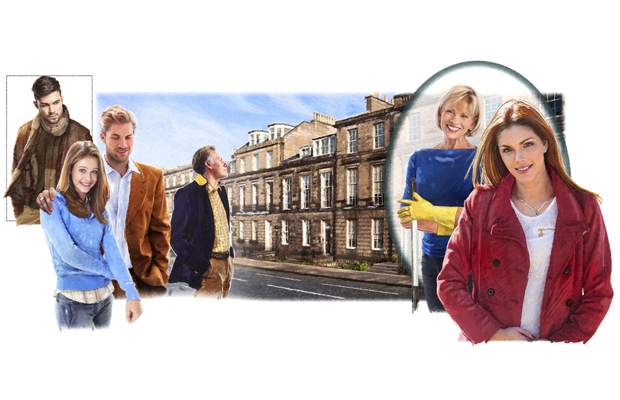 Illustrated by Mandy Dixon.
"Hello?" Georgia had her fingers crossed as she answered the call on her mobile.
"Hi! I'm phoning about the Offices To Let sign outside." The male voice broke off. "Sorry, what was that? Did you say something?"
"No!" Georgia said quickly, suspecting he'd heard the huge sigh of relief that had inadvertently escaped her lips. "Yes, the offices. Please carry on."
"OK." His voice – which Georgia had immediately thought was very attractive indeed – now held a hint of humour. "My name's Neil. I drove past just a few minutes ago and I may be interested."
"Were you in a red sports car at the temporary traffic lights, music blaring – I mean, playing?"
"That was me."
So the interest he'd been showing from his car when she was out there hadn't been in her, as she'd perhaps thought! Georgia wondered if she felt just a bit disappointed, but she decided she didn't. It was just the novelty of starting to feel ready for male attention again, now she was sure she was well and truly over her ex-fiancé, Russ.
"I'd like to come to see the offices."
"When?"
"How about now?"
"Er . . ." Georgia looked at her watch. She was already going to be late to meet her friend, Carly.
He clearly picked up her hesitation.
"There's no rush. I'm not available tomorrow, but the day after would be good."
"Right. Is ten-thirty OK?"
"Fine. See you then." He paused. "I assume you're the woman with the beautiful red hair who was outside when I went past."
"I . . ." she started saying. But he'd gone.
She put her own phone back in her bag and smiled. So he had noticed her as well as the sign!
But the offices were her priority at present. The smile left her face as she wondered whether she should have cancelled Carly and shown him round right away.
"I do hope he'll turn up," she said to no-one as she hurried off to meet her friend.
*  *  *  *
Neil did turn up, but a bit late. To stop her worrying while she waited, Georgia went into the little side room off her office, where she'd set up her sewing paraphernalia, and did some work on Amy's dress. It was to teenager Amy's own design, and so had rather a demanding specification!
"My original concept was, like, post-punk meets deconstructed romanticism, if that helps you with the mood at all," she'd said to Georgia, who hadn't the heart to tell the girl that, frankly, it didn't help one bit!
That was why, when Neil finally arrived, Georgia greeted him brandishing a huge pair of dressmaker's scissors. It was the first time she'd seen him not seated in his car. She'd already decided he was attractive with his distinctive face and longish dark hair.
Now she saw he was tall and slim as well, and dressed in a very nice suit – she imagined even her grandad would admire the tailoring.
After apologising for his lateness, he asked whether she was authorised to negotiate with him – to which she replied yes, since she owned the building.
"Now, what precisely are your requirements, Neil?" When he didn't reply immediately, she prompted, "How much space do you want?"
"Well, I can be fairly flexible. Perhaps if you could just show me what's available?"
"Come this way."
She led him round the building. Or at least, into the offices that were empty and the communal areas, finishing in the kitchen. She'd felt he seemed interested. But when she started giving him details of the rent, he signalled her to stop.
He wasn't interested, she decided, after all. Then he glanced at his watch.
"I always find the boring bits less boring over a meal. Will you join me for lunch, Georgia?"
He named an Italian restaurant. They were still in the kitchen, into which Brett had come just in time to catch what Neil had said.
"You should go," Brett urged Georgia. "I was there last week and the food is fabulous."
Neil looked at her expectantly and, swayed by the words of praise from Number 11's resident foodie, Georgia smiled.
"OK, thank you, Neil."