A Time To Reap – Episode 05
---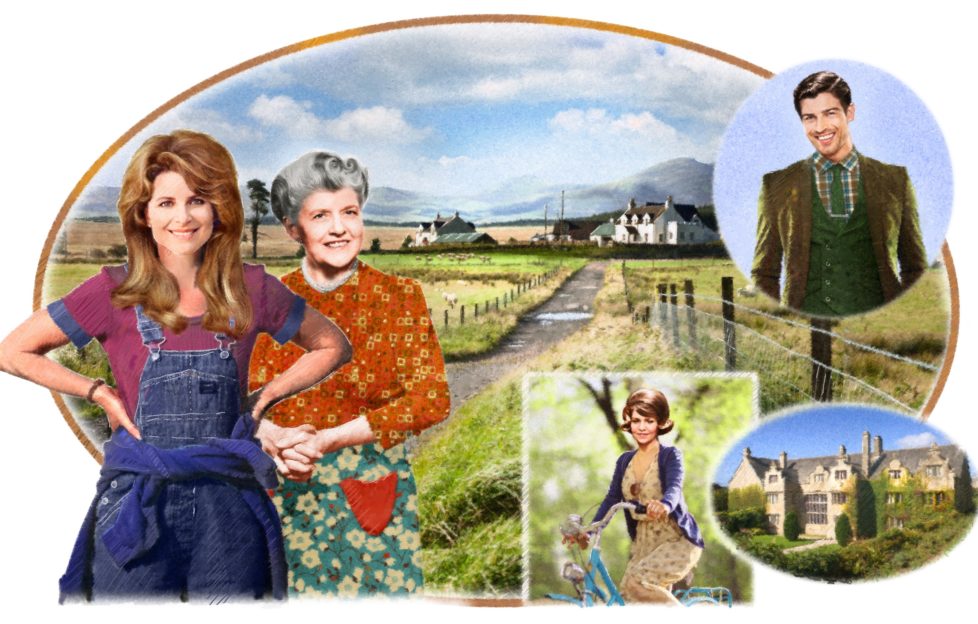 Illustrated by Mandy Dixon.
An airmail letter had come, addressed to Alec Mackay, Peggy's husband.
Nancy Douglas turned it over. The sender was one Hugh Mackay, with an address in California. Must be a relative of Alec's.
Nancy remembered something about a brother who'd left the area long ago. Getting information out of Alec was impossible.
His face lit up and his toe tapped when he could be persuaded to play the fiddle, but otherwise the man was as miserable as a month of wet Sundays.
Nancy went to the door and pulled down the Early Closing Day sign. Her plans for the afternoon could wait. She'd take herself up to Glenmore and deliver the letter personally.
It was two miles to get to the farm from the main road. A shame Peggy didn't drive, Nancy reflected. It meant she was dependent on Alec for a lift if she couldn't get somewhere on her beloved bicycle.
The boys would be getting their licences soon. Colin must be seventeen on his next birthday and Davy a year younger. Alec would be giving the boys a wage now they'd left school. He wasn't a mean man, just a thrifty one.
When she got there, Peggy was washing dishes from the midday meal. She dried her hands and took the letter from Nancy.
"It's from America. California," Nancy indicated.
"I see that. And I see that it's for Alec, so it'll have to wait until he comes in."
Peggy laid the letter on the dresser leaving Nancy frustrated.
"Do you know who this Hugh Mackay is?"
Peggy grinned at her old friend.
"That'll be Alec's nephew. But what he'll be writing to Alec for I haven't a notion."
"His brother's son?" Nancy wasn't giving up.
"Yes, Jack's boy. I say boy, but he'll be in his twenties. Jack died a couple of years back – his widow wrote to tell us."
"You never said."
"Nothing to say. Alec didn't want to talk about it. Jack ran away after an argument with their father when Alec was a lad. That's all I know."
Nancy knew when to give up. She settled the cat on her knee and prepared to talk of other matters.
"You'll be at the Rural on Wednesday?"
Peggy nodded.
"Do you think the lass I met in the post office the other day would be interested in joining? June, wasn't it?"
"I'll mention it next time I see her. Her man can look after the baby for a couple of hours. I feel for her, stuck living next door to you know who."
"Her predecessor coped by not speaking to Isa at all," Peggy remembered. "But June seemed to have a friendly way with her, so I doubt she'll do that."
"She's from Glasgow way," Nancy said. "Likes a bit of a laugh, I'd say. She'll not get one with Isa."
"We'll have to provide the laughs, then." Peggy went to the cupboard and brought out a colander with bits of velvet and lace stuck on to it. "This is my entry for the millinery competition on Wednesday. Looks like something the cat brought in, doesn't it?"
Nancy chuckled.
"Mine's much the same, and I'm the Rural President! There's no point in trying, though, is there? Tibbie will win, as usual."
Peggy nodded.
"You're right. And we'll be the comic turn. As usual!"