A Time To Reap – Episode 18
---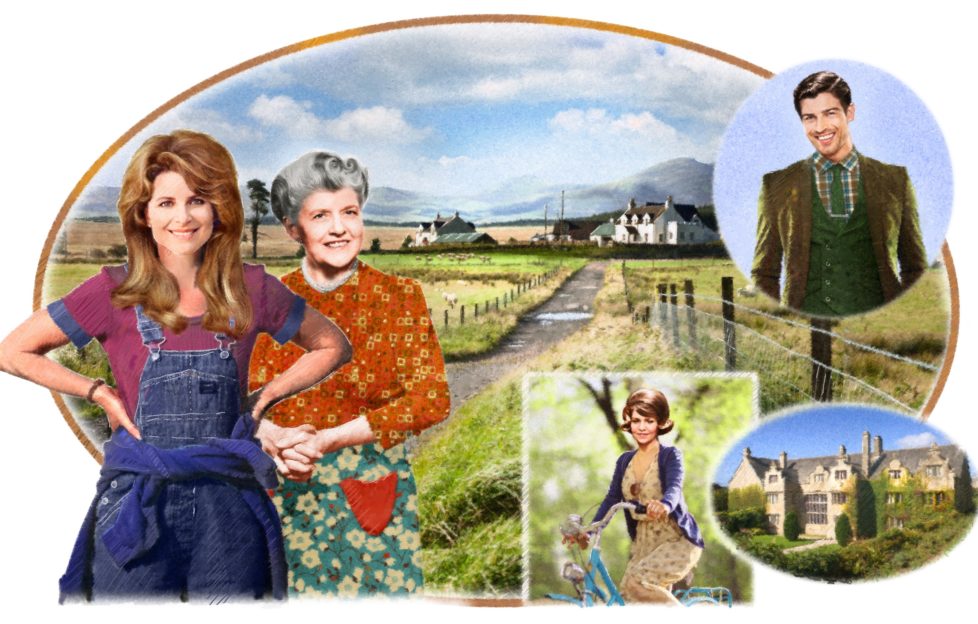 Illustrated by Mandy Dixon.
Elizabeth settled Libby at the table with a jigsaw and browsed the shelves for something light to read.
Sunday afternoon was a time she looked forward to, a few hours to relax before the evening chores. Flora and Tibbie had gone to visit Tam and June Morrison.
When the doorbell rang, just as she was getting comfortable, Elizabeth sighed. She peeped out of the window and saw Andy Kerr's truck.
Oh, no! She'd forgotten she'd asked Andy to come round to discuss the Young Farmers' Club involvement in the agricultural show.
She opened the door.
"You did say Sunday?" Andy looked hesitant.
Elizabeth put her arm through his and pulled him through to the sitting-room.
"I did, Andy. Sit down. I'll put the kettle on."
When she came back he was crouching over the jigsaw with Libby.
"Stay! I can't do it by myself," Libby cried.
Andy laughed.
"All right if I have my tea at the table, Elizabeth?"
Elizabeth put a cup beside him and the two heads bent over the puzzle again. It was a shame Andy didn't have a family of his own, Elizabeth thought. Libby, usually so shy, was chatting away easily to him.
"This is a great way to spend a Sunday afternoon!"
Andy smiled at Elizabeth, who found herself blushing, as if he'd read her mind.
What was she thinking? Andy was an old and valued friend, but why he didn't have a wife and children was none of her business.
*  *  *  *
Peggy surveyed the spare bedroom with a mixture of dread and hope. Alec had whitewashed the ceiling, but insisted that the Americans should take them as they found them.
Peggy got her boys, Colin and Davy, to push the furniture into the middle of the room and cover it with dustsheets. They then stripped off the old wallpaper.
She took down the heavy curtains to wash, although she dreaded the thought of putting them back up.
The carpet was horrible, too, the colours that had once swirled over it faded to grey. Well, there was nothing to do except give it the sweeping of its life.
Auntie Mamie had come over early this morning to put up the pretty white and yellow and green wallpaper, and she was going to stay overnight, to Peggy's glee.
Her own mother had died young and Peggy regarded her aunt as a beloved substitute. Spending time with her would be a treat.