A Time To Reap – Episode 27
---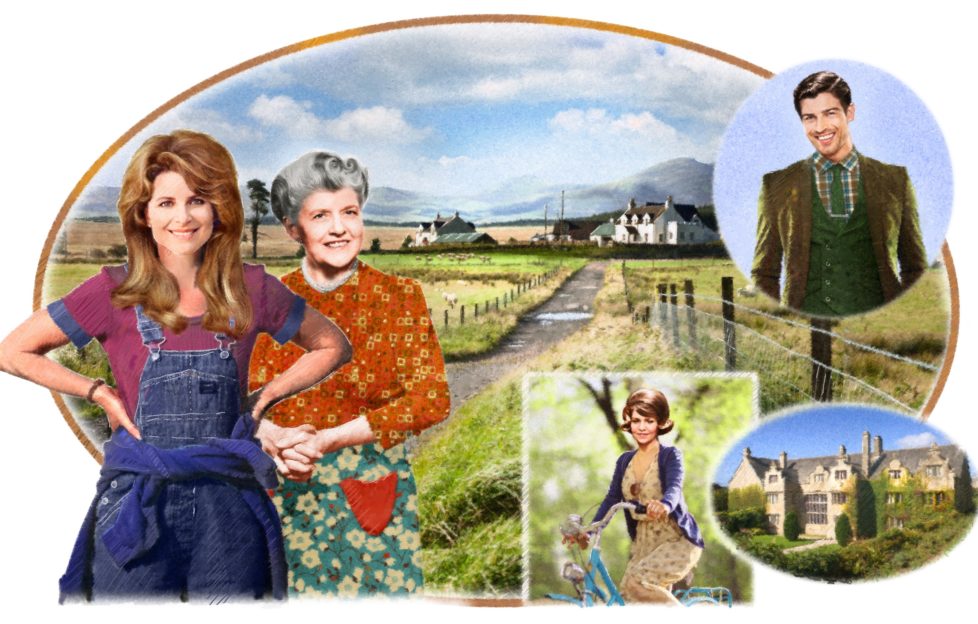 Illustrated by Mandy Dixon.
"I hate sitting still!"
Mamie had to laugh. Not only was Neil having his movements restricted for fear of putting his back out again, but now their great-nephew Davy was also confined, for the moment, to a deckchair in her garden.
When Mamie went over to Glenmore to meet the American visitors, Peggy complained about Davy getting under her feet in the kitchen, so she volunteered to take him back with her for a couple of nights.
Now Davy hulled a strawberry and dropped it into the bowl by his side.
"Col's having all the fun," he moaned. "I wanna hear about California, and show Hugh how to milk the cow."
Mamie suppressed a smile at the sound of the twang in Davy's voice.
"Hugh looks so like you all," she said. "He's a Mackay, all right."
"Crys says that advertising is telling folk about what you've made," Neil said. "It's big business, it seems. He'll be doing well, your cousin Hugh."
"He is. He showed us a picture of their house. It's three times the size of ours!" Davy held his arms wide. "His car was outside and it was huge, as well. Everything in America's huge, seems to me."
"They have more space," Neil suggested. "Davy, did you find out what the quarrel was about? The one that sent Jack across the Atlantic?"
"Yes."
Davy took a bite from a strawberry, dribbling juice down his front.
"I can't sleep upstairs 'cause of my ankle, so Mum made a bed for me in the room off the kitchen. That first night, after everyone else went to bed, Dad and Hugh sat up talking. I think they forgot I could hear. But I could, every word."
Mamie frowned at Neil.
"You shouldn't tell us if it's private, Davy."
"Mum told me and Col bits of it anyway, the next day, and she told Elizabeth on Saturday." Davy handed Mamie the bowl. "That's the strawberries done."
He leaned back.
"Dad asked Hugh if he knew the old story and Hugh said he didn't. His father, Uncle Jack, had told him all about Alec and the farm, but he'd never talked about why he left."
Davy paused.
"Dad said that one day the barn burned down and their father said Jack must have been smoking in it. He wouldn't believe Jack when he said he hadn't. The next morning, when their father called upstairs for Jack to get his lazy hide out of bed, he wasn't there. He'd left in the middle of the night."
"Good grief!" Neil put down his pipe.
"'Your lazy hide', that's what he shouted upstairs," Davy repeated with relish. "Someone said later they'd seen Jack getting on a train in Inverness.
"It hadn't been him smoking, either. Another barn caught fire the next day and they caught a tramp running from it!"
"Your uncle Jack surely died young?" Neil said. "He was just two or three years older than Alec."
"Uncle Jack fell off the roof of a house he was building. And guess what, Uncle Neil?" Davy went on. "Dad said he was sorry for everything and that the farm was Hugh's by right. But Hugh said there was nothing to apologise for. It had worked out well for his dad in California. He had a good life."