A Time To Reap – Episode 34
---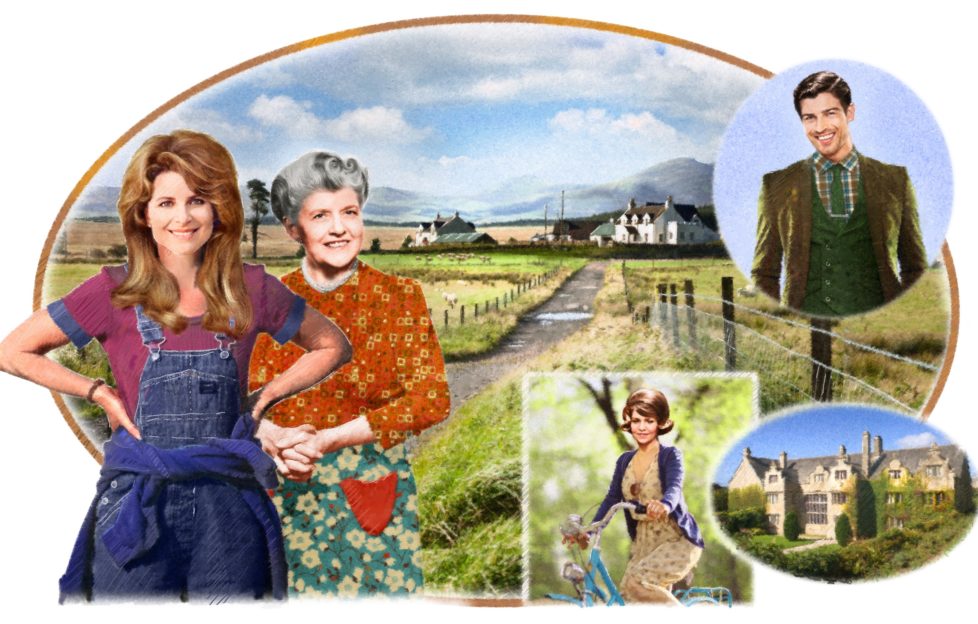 Illustrated by Mandy Dixon.
"Shall we go for a walk? It's such a lovely afternoon," Mamie asked Neil.
"If you promise not to run on ahead of a shuffling old man."
Mamie tucked her arm through his.
"Doctor . . . the doctor said gentle strolls would be good for your back."
Neil's face darkened.
Mamie berated herself for mentioning Struan Scott. Bad back or no, Neil had been all for going down to the surgery and having it out with the doctor for playing fast and loose with his daughter's feelings.
Crys had begged him not to. Mamie agreed.
"Crys is grown up. She knows you're upset on her behalf, but it will only make things worse."
Mamie sighed as they turned off the tarred road and along a grassy track.
"He won't be here much longer. His six months here will be up soon. Poor Crys. She fell hard for him."
"Always thought he was smarmy," Neil growled.
Mamie squeezed his arm. She knew that Neil's opinion of Struan was in retrospect – they'd both liked him and believed him honest, until the moment when Crys, having heard a rumour he was engaged to a girl in his home town, had confronted him.
Both their daughters were going through the mill at the moment, Mamie reflected. Crys had driven off in the pink Mini last week and was now in London, throwing herself into work, and crying on the shoulder of her school chum, Robbie MacLean.
And Elizabeth? On top of her ongoing tussles with the factor, Rodney Shaw, she had the worry of the accident that had happened to the estate's prize bull.
Fortunately, his cut hoof was on the mend and vet Andy Kerr had recovered from being kicked.
Mamie knew Elizabeth was more than capable of managing the estate's Home Farm. But it was a full-time job with a heap of form-filling to do as well as the outside work. It left little time to spend with her daughters. Her mother-in-law was a rock she could lean on, but she wasn't the easiest person to live with.
Tibbie's presence, too, was a constant reminder that Matthew was gone. Two years now. Mamie was proud of the way her daughter had coped.
It would be nice if she had someone to share her burdens with. Had she ever considered remarrying?
But she never met anyone new. Her world was her work and her girls. There was no time or opportunity for anything else.
"Penny for them." Neil nudged Mamie.
"Oh!" She gave a sigh. "Not sure they're worth that much. Before I had children I never thought that you would always worry about them, no matter how old they were."
"Aye, it's a job for life, right enough." Neil stopped. "Here's a boulder. Let's have a sit-down. Crys will get over it. Plenty more fish . . . " he said, putting his arm around Mamie's shoulders.
Mamie nodded.