A Time To Reap – Episode 63
---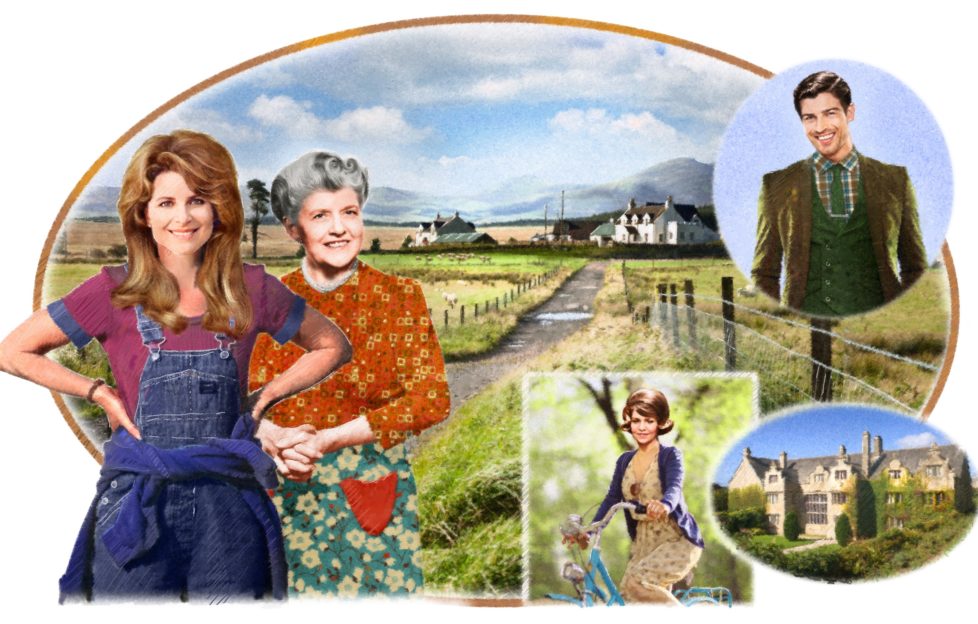 Illustrated by Mandy Dixon.
"Who'd have thought we'd be back here for a wedding party!" Peggy drew up alongside Mamie and Neil.
And who'd have thought then that she would be driving her husband and sons anywhere?
Alec had encouraged her to go out with Mamie as often as she could, and she still cherished the moment when, two months ago, she had flourished her pass certificate at him.
She linked arms with her aunt and uncle as they walked up to the house.
"Don't the boys look smart?" She glanced proudly at Colin and Davy, all dressed up for once.
"When is it you're away, Col?" Neil asked.
Colin loosened the knot of his tie.
"End of April, Uncle Neil. A ranch in San Diego County, California," he said with relish.
Peggy sighed heavily.
"We're both losing children to California, Auntie Mamie. Oh, we had a letter from Hugh – Donna's expecting in the summer!"
"That's nice." Mamie squeezed Peggy's arm. "Don't think of it as losing children, Peg. The world's a smaller place than it was. Maybe we could all go out for a visit!"
Alec groaned.
"Don't be putting ideas in her head, Mamie."
It was a dream to hold on to, though, however unlikely to come true. There was no money to have the telephone put in, never mind take a foreign holiday.
No money to employ anyone to replace Colin, except for casual work.
But it would be a few years, Peggy comforted herself, before Davy would leave. Before he could apply for the police, with his father's blessing.
"The days of the small farm are numbered," he said. "There will be no living for him here."
Whether that was Alec's pessimism or the truth, only time would tell.
Right now, Peggy thought, cheering up, there was her dear cousin Elizabeth's wedding reception to look forward to.
*  *  *  *
Bill Brock kissed his wife.
"Can you forgive me?" he asked.
"For what?"
"Tearing you away from here."
Elizabeth looked down the room. Their mothers were deep in conversation. Bill's sister was swinging Libby round and round.
Flora had a vol-au-vent in each fist and Tibbie was trying to remove one of them. Colin and Davy were eating their way steadily down the table while their mother stood fondly watching them.
Neil and Alec were putting the world to rights.Crys and Robbie sat close together on the window seat.
For a moment, Elizabeth panicked. What had she done? How could she leave them?
She turned back to her husband and met his steady, loving gaze.
"Yes," she said softly. "I do believe I can."
The End.