A Year In France – Episode 04
---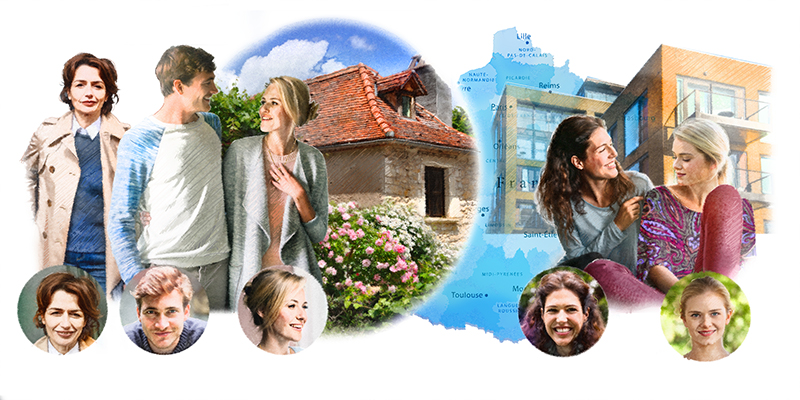 Illustration by Mandy Dixon.
"Au revoir, Julia," Madame Colbert said as she showed Julia out.
"Merci," Julia replied, her head buzzing from the effort of concentrating on the difference between regular and irregular verbs.
Dragging up vocabulary from her schoolgirl French had been painful and Madame Colbert was a hard taskmaster.
There were a few people wandering around the village as made her way towards A Taste Of The Countryside.
Chairs around the tables outside the village café were occupied with people enjoying coffee or an aperitif before lunch.
Further on from the café, Julia stopped to look in the estate agent's window. A picture of a small, red-roofed cottage with wisteria climbing over the front porch caught her eye.
Julia squinted, trying to make out the price. A quick look at other cards told her it was the cheapest property for sale in the area.
Was the cottage in her and Philippe's price range? Was it the kind of house he had in mind? She had no idea of the answer to either question.
It struck her for the first time how little she really knew about the man who'd swept her off her feet.
She knew the everyday things about him, of course: the food he liked, the way he drank his coffee, the clothes he wore, that he adored his mother. There were still some major things they'd not discussed yet, though. Houses and money were two of them.
She didn't have any idea of Philippe's income. His books regularly hit the bestseller lists, which had to be good money-wise.
Looking at the property pictures, she began to wonder where they'd live when they did buy something. Their current cottage was rented furnished and had been a typical bachelor's home until she'd moved in and introduced a few pictures, candles and cushions into the sitting-room.
Impulsively she opened the shop door and went in. Taking the details home to Philippe for his reaction would answer two questions: the kind of house they both liked, and the price range they'd be looking at.
The man at the desk glanced up, then returned to his paperwork.
Julia had to stand there waiting until the man deigned to look up and ask if he could help. At least it gave her time to frame a basic question in French, but once she had asked about the cottage, she stopped. She had no idea how to continue.
The man opened a file on his desk, pulled out a sheet of paper and gave it to her.
"Make a date for next week if you wish to see it," he said in English before returning to his paperwork.
Julia took the paper, muttered, "Thank you," and walked out. No way would she be making a viewing appointment with this agency.