A Year In France – Episode 06
---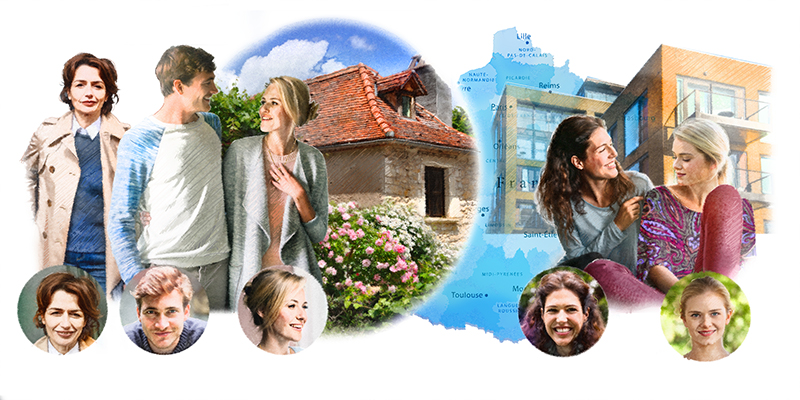 Illustration by Mandy Dixon.
Later, as Julia waited for Philippe to join her for lunch, she looked at the cottage details again. Maybe Philippe would recognise the cottage and know where it was.
"I see you've met the man who annually wins the title Grumpiest Villager," Philippe said as he pulled out a chair and sat down.
"Well deserved, I think," Julia commented. "Do you know where this is?"
Philippe nodded as he helped himself to a slice of cheese.
"It's to the east of the village, near the Italian border. Same side of the village as my mother."
"Grumpiest Villager said to make a date with him if we wanted to see it."
"I don't need to see it," Philippe said. "I've been there. It's not for us."
"I rather liked the look of it," Julia admitted. "Does a friend of yours own it?"
Philippe nodded.
"Yes. It's too small for us," he added. "Only two bedrooms and we need at least three and a study. Besides, it's over priced for what it is."
"Houses here seem expensive. This was the cheapest one in the window. What sort of price range are we going to be looking in?" Julia asked.
Knowing the answer to that would at least stop her falling for ones that were too expensive and out of their reach.
"We can afford more than that cottage," Philippe said. "Depends on where we decide to live and what we find. And how well the next book does." He stood up. "Talking of which, I'd better go. Oh, I forgot to tell you, Mother has invited us to supper on Saturday."
He gave her a quick kiss and was gone.
At least she knew the size of house Philippe wanted and had some idea of the price range now, but she still didn't know whether they shared the same taste.
Thoughtfully Julia fingered the locket around her neck. It had been her mother's and something she'd worn ever since that horrible day in the hospital when the nurse had handed it to her.
She'd opened it that day and stared at the picture of herself standing between her parents as a toddler, holding their hands.
Wearing the locket gave her comfort. It made her feel her mum was still close.
* * * *
Strolling around the local flea market on Saturday morning, Maddy turned at the sound of her name being called.
Tina, a friend from college she'd lost touch with, waved at her excitedly.
"Long time no see. I thought you were living in Scotland?" Maddy said. "Let's have a coffee."
Two hours later, after coffee had turned into lunch at an Italian bistro and they'd filled each other in on their lives, Tina looked at her watch.
"I've got to dash. I'm meeting someone on the other side of London in an hour. Here's my card. E-mail me."
Maddy quickly scribbled her own e-mail address on a piece of paper.
"We must stay in touch," she said, handing the paper to Tina. "Give me a shout next time you're in town. I've got a spare room."
"You looking for someone to share with?" Tina asked. "I know someone who's desperate for somewhere to live."
Maddy shook her head.
"No. I'm getting used to having the place to myself."
"Shame," Tina said. "I think the two of you would have got on. Bye."
Once home, Maddy unpacked her shopping, gave the flat a quick tidy and pushed the vacuum around. A niggling thought buzzed in her mind. Had she'd been too hasty in refusing to meet the friend of Tina's?
She remembered how hard it had been to find somewhere decent to live when she and Julia had first arrived in London.
Telling Tina she was getting used to having the place to herself was the truth, but that didn't stop it being lonely in the evenings and at weekends.
Opening her laptop, Maddy typed in Tina's e-mail address from the card she'd given her.
No guarantees, but if your friend wants to come and see the flat, maybe we can work something out.
An hour later her e-mail programme pinged.
Hi, Tina says you possibly have a spare room I could rent. I'm desperate to find somewhere so can I come and see you later today? Tina's given me the address. Dannie.
Maddy sat for a moment, her fingers poised over the keyboard. Whoever Dannie was, she was clearly as desperate as Tina had said.
Maddy started to type.
Sure. Seven o'clock would suit me. Look forward to meeting you.
She hesitated a fraction of a second before pressing Send.